GingaDaddy is an NZB site that provides both paid and free membership. The site is designed to provide a simple solution for browsing content that is available on Usenet. As a member, you can upload NZBs or get assistance from other members on the community forum. It does not matter whether you are a Newsgroup beginner or expert, this is the right place to get assistance, chat, and other stuff.
They have been around since 2008, and they are rated as one of the best NZB sites. The fact that it is based on Newsznab+ makes it easy to navigate, and indexes are kept clean. You do not have to wait for invites previously it was an invite-only site but does go into only from time to time. You can just visit the site and get your free membership. It is advisable to upgrade if you want to enjoy premium features and help keep the site alive.
Easynews is our top choice among the Best NZB Index Sites 2023. It is a complete all-in-one solution that includes unlimited high-speed Usenet access plus a Usenet search interface with the most accurate Usenet search results. The interface is easy to use — just log into your Easynews account, enter your query into the search bar, and hit enter.
Other features:
Highest retention rates / largest Usenet archive
Retention grows daily (no Usenet posts are expired)
Fast and accurate results
Easy to use, fully customizable search interface
No NZBs, indexers, or newsreaders needed
Can be accessed from any device (mobile and desktop)
This will also save you the hassle and added cost of subscribing to
various NZB indexers since you get unlimited access + unlimited Usenet search with your Easynews account
Exclusively through Usenet.com: Get 3 FREE Months of Easynews – Includes 30 day MBG + Free Upgrade to Unlimited (normally 150GB/mo)
NZB's & Retention
Retention can be defined as the number of days  newsgroup articles provider maintains uploaded content on their servers before it gets expired. Remember that newsservers are continually updated and that can amount to several Terabytes daily. It is not possible to have adequate space to store all that. After some time, they expire to create space. You need a Usenet Service Provider?  We recommend UsenetServer because they have over 900 Terabytes of storage for articles and expanding. They currently offer 3,650 days of retention and they are continuously growing .
As a free user GingaDaddy, you will get access to more than 870 K NZBs. On the other hand, VIP users get all that free users get plus 163K NZBs. GingaDaddy offers 200 days of retention and a maximum of 3 searches per day for free users. However, VIP users get unlimited premium searches.
Pricing & Payment Options
As said above, GingaDaddy provides two types of memberships: paid and free memberships. Free users do not have to pay anything. To become a VIP member, a small $17 donation gets you a plethora of upgrade. You should note that the VIP membership is per year. The following are the payment options they provide:
• Paypal $17
• Bitcoin $16
• Credit/Debit card coming soon
Free Account Features
As a free member, you are limited to 3 NZBs per day. Also, NZB grabs are limited. Fortunately, you get unlimited access to the community forum. However, free membership is sponsored by a few ads.
GingaDaddy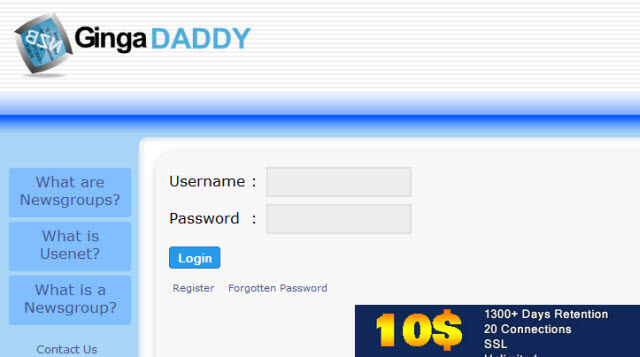 Paid Account Features
As A VIP account holder, you are entitled to several features. For instance, you have access to unlimited downloads. In fact, you can even download in bulk. There is also a bookmark option. This makes it possible for you to maintain a list of your choice. There are no annoying ads. Moreover, you have unlimited access to VIP forum and VIP NZBs.
GingaDaddy
API Integrations
The API key is generated after the user fills out RSS form that appears on the account details page. At the forum, you can learn how you can get your API to work with Sonarr. Some of the API integrations you can get included NZBGet, Sonarr, SabNZBD, Couchpotato, and much more. Free account holders get a maximum of three API calls a day. On the other hand, VIP account holders get unlimited API calls daily.
Ease of use
Before using this NZB site, you are required to register a free account. After logging in, you can find the subject you want at the search bar. You can then review the results and click on NZB button to get the NZB to your computer. You can also open it automatically with the Newsreader.
You will find search features on the site quite amazing.
GingaDaddy
Even if you are a first-time user, you will not have difficultly navigating around. In fact, the download process is quite easy and does not any problems. You just search what you want and download NZB to the browser and then open it with the program of your choice. With several NZBs through searching, it cannot be difficult to get what you want.
For instance, free users are allowed a maximum of three searches a day. Moreover, you can filter the searches according to formats and genres and then sort them by grabs, comments, age, size, views, IMDb rating, and IGN rating.
Features
The site has more than 900K files that are accessible to users. It also offers a minimum of 2,000 days of retention. This means that you have an excellent backlog to search through. Moreover, you will find search on this site quite easy. For instance, it has an advanced search function that allows users to limit or filter search so that they get something that is relevant to them. The following is a list of GingaDaddy features:
GingaDaddy
– Newznab+ NZB indexer
– VIP account with unlimited NZB grabs and API calls
– Free account with only 3 API calls per day and limited NZB grabs
– Retention of more than 2000 days of binary
– Over 50 groups crawled
– Ads for free users
– The indexer runs after every 15 minutes
– Several integrations such as NZBGet, Couchpotato, Sonarr, SabNZBD
– SSL security
– Forum for all users
Security
As mentioned above, GingaDaddy uses SSL security. This is one of the ways they are dedicated to guaranteeing your security and privacy. It is important to note that they do not record your IP addresses and your IP address cannot be available for public viewing. Also, they do not need a valid email address when you sign up.
However, the information posted on their forum is users post public as much of it. In that case, they are not responsible for what you willingly disclose to the public. In so doing, you are at your risk. Just like other NZB indexers, they cannot guarantee the loss, unauthorized access, misuse of data that will never occur.
Forums
GingaDaddy provides a forum to all users (both free and paid members). The forum is divided into four areas: General, Support, Exclusive Members Area, and FAQ. You have the opportunity to connect with other members, chat, and get support. In this way, they enhance your experience on the site.
Conclusion
GingaDaddy is a user-friendly site at relatively low price. With only $17 you can become a VIP member for the whole year and get unlimited API calls. They have a free membership that is limited in certain ways. No invites are required to become a member. You will get an opportunity to access a lot of content thanks to the site's indexes.
Check out our Best Usenet Service Providers