NzbPlanet is one of the best NZB sites around. NzbPlanet has been around since 2012. It is fully automated and works on Newsnab platform. They depend on their  members to drive the quality of their community based NZB forum. They have over 200k members and over two million NZBs.
Its popularity is attributed to premium features like built-in calendar, which shows upcoming releases. The fact that it offers limited free membership has made it a top choice among users. You will also need a Best Usenet Service Provider, our choice is UsenetServer they have everything you need in a Usenet Provider
Editor's Note: Easynews is our top choice for Usenet search. This is an all-inclusive service with everything you need to get up and running with Usenet:
Unlimited Usenet access
The best retention (largest Usenet archive that grows daily)
Usenet search interface with fast, accurate results and file previews built in
Search Usenet without NZBs
No software needed
This also eliminates the need to subscribe to NZB indexers – many of which charge a subscription fee or are closed to registration.
Exclusively through Usenet.com: Get 3 FREE Months of Easynews – Includes 30 day MBG + Free Upgrade to Unlimited (normally 150GB/mo)
NZB's & Retention
Free users get 5 NZBs per day with retention of 200 days. On the other hand, VIP account holders get retention of over 1,500 days of binary.
Pricing & Payment Options.
NzbPlanet.net lists files that are stored in Usenet newsgroups. So, when you search for something on NzbPlanet, you get an NZB file which is a list of links to files on Usenet. They don't host any files themselves. So, you need an account with an Usenet Newgroups provider like UsenetServer because they have over 4,092 Days of Retention.
There are four types of memberships:
• Free – Pay $0
• VIP – $9 per year
• Platinum – $24 per year
• Lifetime/Me Love You For Life – $80/per lifetime
You can upgrade to any membership through Bitcoin. If you do not have Bitcoin, you can use e-currency converters online.
Free Account Features
As noted above, this is one of the NZB indexers that offer free limited memberships. All free accounts are limited to 10 NZBs per day with a maximum retention of 200 days. Free account users also get access to the forum where they can discuss relevant matters or ask questions and get assistance.
Membership
As mentioned above, there are two major types of Nzbplanet memberships: Free and VIP. The free membership is great if you just want to try the service and see how it works. It can also be a good option if you are not looking for a lot of content. This is because it is limited to only 10 NZBs per day and a retention of 200 days. Unfortunately, with this account, you do not get any API calls.
VIP account is the premium Nzbplanet membership that comes at $9 per year. This is the most popular type of membership. It is ideal for "heavy users." You are provided with unlimited NZBs daily and a total of 5 invites. Other important features of this type of membership include 5000 API calls daily and over 2,000 days of retention.
There is also Platinum membership where you enjoy all VIP features plus 20,000 API calls daily. This plan goes for $24.
Due to the demand from users, Nzbplanet plans to launch another type of membership known as Lifetime Membership. In this case, users will be required to pay $80 for life. Just like the premium membership, they will get unlimited NZBs daily. Instead of 5 invites, they will get 30 invites. As far as API calls are concerned, they will be limited to 20,000 API calls daily. Moreover, they will enjoy retention of more than 2,500 days. The good thing about this type of membership is that it is cost-saving.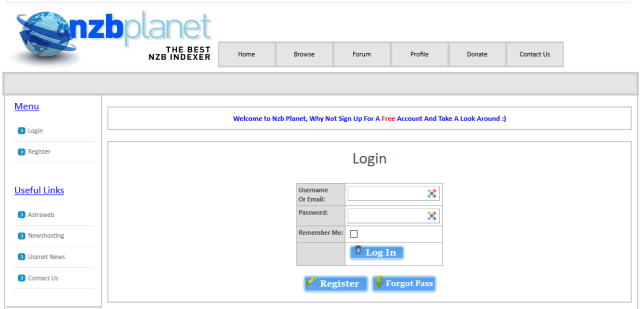 API Integrations
Nzbplanet API integration enables developers to access NZB and index data through integrating API services into their application. You should note that the API integration is rest-based. This means that outputs are in JSON and xml.
Ease of Use
To use NzbPlanet, you should have an NZB app and an account with Usenet newsgroup. At the dashboard, you can search what you are looking for using a key phrase, for example, "Presidential Election USA." The search will bring several files, and you can get NZB file by just clicking the NZB icon. The type of content can be video, ebook, audio, magazine, TV clips, and much more. You can save your NZB into your computer's hard drive. After getting the file, you are done using NzbPlanet. You will then need to important your NZB into the client software.
Features
Being relatively a new project, it has several cool features. The platform is free to use, but you are required to register first. The registration has been free for the last few years. You never know, in the future it may be through invites only.
You can use this platform for free with few limitations. The major limitation is getting a maximum of 10 NZBs per day and retention of 200 days. However, with a VIP membership, you can get many NZBs as much as you want, access to the forum, and API key.
The following is a list of all Nzbplanet features:
• More than two million NZBs
• Free membership with a limit of 10 NZBs daily and retention of 200 days
• VIP Membership with 5,000 API calls per day and Unlimited NZBs for only $12.
• VIP accounts have a retention of more than 1,500 days of binary.
• More than 300 groups crawled
• Ads for free accounts
• Indexer is updated every 15 minutes
• Forum
• API integrations with NZBget, SabNZBD, and more through API system
• HTTPS used
• Credit and Bitcoin payment options accepted
Security
When it comes to indexers, your security is very important. This is because, in the past, there have been bugs and other security issues such as HeartBleed bug. Site security is not a one-time thing. Instead, it is something you need to review on a regular basis, rest you will be compromising your privacy and security. Fortunately, with Nzbplanet, your security and privacy are guaranteed. For instance, the service is provided behind CloudFlare. To deal with security issues, it uses SHA-1 SSL certificate. The HTTP Strict Transport Security settings ought to be at least 180 days.
Forums
The forum is one of the best things Nzbplanet provides. The forum is divided into six areas or discussion boards:
Recent posts
Nzbplanet board
Community
News
Reviews
Usenet & Newsgroups
At recent posts, you can see what is being discussed by members. At the community, you can enjoy general chats and get to meet other members. Simply, the forum can help you learn a lot and seek guidance.
Conclusion
Nzbplanet is a popular automated indexing service with hundreds of thousands of satisfied users. It derives its popularity from premium features such high retention and built-in calendar, which shows all upcoming new releases. It provides four types of membership with one being free. You can easily upgrade to any membership of your choice through bitcoin.
The fact that it has been around for several years and several positive reviews posted by users is a good indication that this is a top indexer. It has an excellent selection of NZBs with a rapid server. Best Usenet Provider 2023