Usenetserver.com Review
UsenetServer Review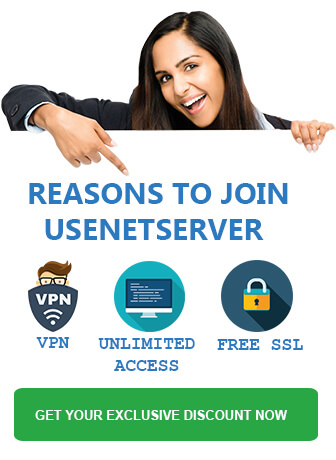 Rating
Pricing
Features
Payment Options
Retention
$3.95/mo

Usenet Search Engine
UNS VPN ACCESS
Lifetime Discount

3,596 Days
UsenetServer was chosen the Best Usenet Service Provider by Usenet.com Review. Their retention is a whopping 3,662 days and they aren't stopping there. They got their start in the Usenet Newsgroups Industry around 1998. They have earned the top spot on our Best Usenet Service Provider. They were chosen based on their excellent completion rates and one of the Best Usenet global search feature.  Usenetserver provides access to Usenet Newsgroups and NNTP feeds for business and private use. They have recently added a VPN feature for online identity and data protection. You can either purchase it as an add-on or as a standalone service. These are just a few examples why UsenetServer continues to thrive in this extremely competitive market.
FEATURES
FREE NZB & USENET SEARCH
99% + COMPLETION
BLAZING FAST SPEEDS
UsenetServer Features
UsenetServer allows unlimited access to all customer plans. You can transfer unlimited amounts of data with top speeds maximized by the high number of concurrent connections in any of the plans. The number of discussion groups that they give you access to is more than 100,000, both text and binary. You can exchange some ideas with literally millions of other Usenet users through UsenetServer.
They have added a VPN feature. Virtual Private Network is a protective encryption tunnel that creates a secure environment while you are online for your data. It switches your IP for an anonymous IP which keeps your internet connection safe. They have made it so simple just download their software.
They offer 3 VPN protocols PPTP, L2TP and Openvpn. There is no bandwidth or transfer limits with your account. We recommend you add their VPN service to their Usenetserver Plan that will be the best deal for you.
They also offer a referral program for their customers where you can earn $10.00 credit in your account for any referral that you successfully make.

Pricing
UsenetServer offers three packages for their customers to choose from. The packages are based on the duration of subscription. The final and the best plan is their 3 month subscription, which comes with a price tag of $39.95. It offers the same features as those for the one month package but at additional 11% savings.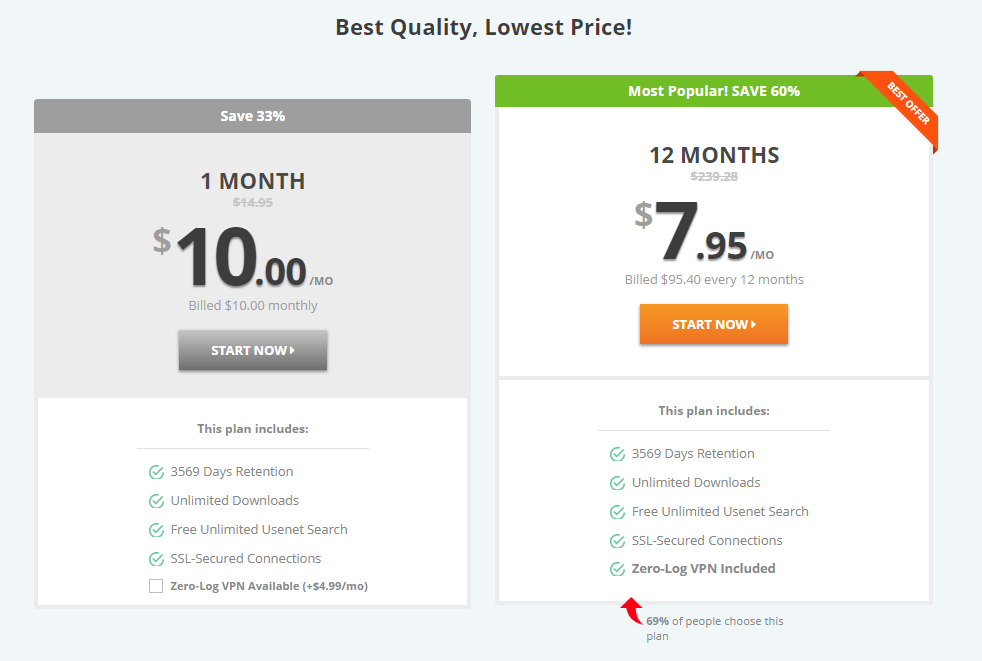 Free Trial
Usenetserver offers a 14 day/10 GB free trial for all their plans. You can cancel at any time before 14 days or 10 gigs which ever comes first. So go ahead try it for yourself you will not be charged. They make it so easy to get started.
Usenet Search Client
UsenetServer Usenet Search incorporates an NZB creator. So you can search the most popular newsgroups for specific keywords you are looking for. Then you can build an NZB from your newsgroups specific keyword results. They are always striving to provide the Best Usenet experience possible for their subscribers and welcome any suggestions for improvement or added features you may have.
Retention and Completion
UsenetServer operates a massive architecture for storage that can allow up to 3,560 days of retention. Peering relationships are maintained by UsenetServer with all the major providers of Usenet. Meaning that you receive access to nearly all the articles that are posted to Usenet from anywhere in the world. This translates to great reliability with near perfect completion.
Connections and Speed
UsenetServer offers a 256-bit SSL connection to all subscribers on any of their monthly plans. This ensures secure and reliable connections. There are more than 800 providers of broadband access that UsenetServer connects to. As well as the multiple providers of Tier 1 translate to mind blowing download speeds.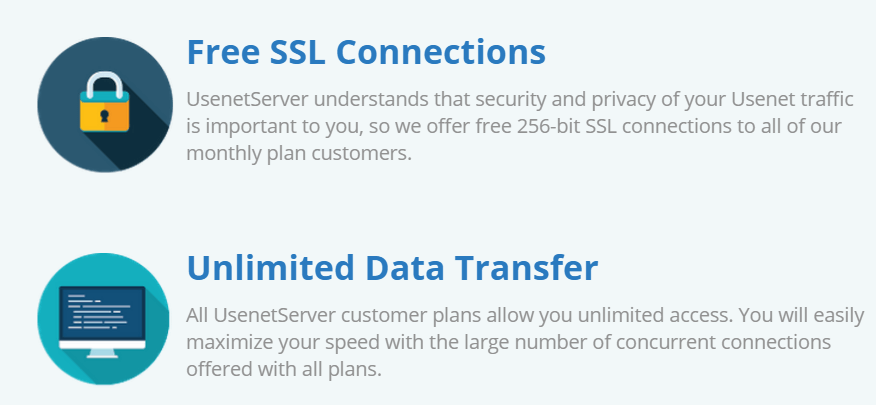 News Servers / Ports / Configuration-
Hostname: news.usenetserver.com
Support
24/7 customer support is offered to all account holders through live chat, phone or email. They also offer a comprehensive FAQ area on their homepage which we found very helpful.
Conclusion
UsenetServer Review offers some of the most competitive pricing we have seen in the Usenet market. Their global search feature and recent VPN addition makes them a top choice for any Usenet user.
Summary
Reviewer
Review Date
Reviewed Item
Author Rating