Spotnet Versus NZB Files
Spotnet can be defined as a protocol on top of Usenet. It  provides a way that you can get the content that you want from the USENET  without using NZB files. With so many technical terms like Usenet, Spotnet and NZB being thrown around. Well, the first thing to do is to learn about these technologies. No worries, we will walk you through  So let's discuss Usenet.
What is Usenet?
To understand Spotnet, you first need to know what Usenet is. To put it simply, Usenet is a way to transmit data. Mostly, it is used to transfer messages for newsgroups. Now, you might wonder how this is so different from an internet forum or message board. Well, it's not, except that the way it carries data is different. In Usenet, message are carried from one Usenet server to another but the messages are kept on a single server for only a temporary amount of time. This time is also known as the Usenet retention time.
What is Spotnet?
Now let's understand Spotnet. Spotnet is a technology built upon the Usenet methods. It is technically termed as a protocol on top of Usenet. What it does is that it uses Usenet's transmission method, as explained before, but has its own XML format and is much more decentralized.
What can you get from Spotnet or even Usenet?
At this point, you are probably wondering why any of these "nets" is relevant to you. It started off as a message board that supported textual posts. Ever since the introduction of binary posts, Usenet now contains all types of data for download. So, you might just find what you are looking for on the Usenet servers.
What are the advantages?
Why is Usenet or Spotnet better? There are a few reasons why this is so.
Safety: Usenet offers the ability to create SSL connections for increased safety.
Faster downloads: The only thing limiting your download speed while using Spotnet or Usenet will be your ISP's download speed cap. With Usenet, as long as a file is available, it will be downloaded at the best speed possible.
No Uploads: Some people also have upload limits set by ISPs. With Usenet, there is no need to worry about that. 
Which is better, Usenet or Spotnet?
It is very hard to answer this question with a yes or no. Usenet and Spotnet are very complementary to each other. If Usenet had not existed, Spotnet would not be possible. You can think of Spotnet as Usenet with some value added benefits. There are some comparisons to make between them, however.
XML Formats: The primary difference between these two protocols is the XML formats. Usenet uses the NZB format. In this format, each file contains a message ID. For larger files, NZB splits them into part or segments each containing their own ID. Then the Usenet client can decode and stich them. In Spotnet, the mechanism is much different. The Spotnet XML contains metadata, usually in a NFO file, about a post or message. It also contains references to images and an accompanying zipped NZB which is stored elsewhere on the Usenet network. So the Spotnet method becomes much safer.
Decentralization: Due to the above mentioned technique, Spotnet becomes more decentralized than Usenet. Using Spotnet's method, the message ID can serve as a link to all the required articles and spread the links around media without actually hosting the data on centralized data storage.
RSA Signing:  Another difference between both services is that Spotnet RSA signs its posts. This, again, makes Spotnet more secure. Using RSA signing, the encryption key is kept public but the decryption key is kept private to avoid unintended tapping.
How to Use Spotnet?
Before you can start to use Spotnet you first need to find a Usenet provider. When choosing a Usenet provider you need to keep a few things in mind:
How many days of binary retention do you get? As mentioned before the files stored on Usenet servers are only temporary. So the time available for files to download is temporary as well. Depending on your use, you might need a high retention rate. This can vary from 2 months to 2 years from provider to provider.
Text vs. Data Retention? A lot of providers will try to trick you by mentioning a very high retention rate but do not be fooled! Be aware that there is a difference between the text retention rate and data retention rate. The text retention rate only applies to text-only posts!
Data Allowance: There are also caps to the amount of data you can transfer monthly. If you are looking to download big files get a suitable package with a high amount of data transfer. There are even ones with unlimited transfers. You can even go for a low transfer limit packages that costs less.
Simultaneous Connections: This may not seem important but there are quite a few strings attached to this property. While this also means the amount of simultaneous devices that can be connected at a time, it also means the number of downloads that can be processed simultaneously. So, if you had a limit of 5 and were downloading 5 parts of a NZB download, you would have reached your limit! This is very tricky because most files, as we mentioned before, are split into many parts so parallel downloads are more of a necessity than option.
Security: Many service providers will offer SSL encryption for a certain extra charge. This is completely optional but if you think you need an extra layer of security then you might want to look into these charges beforehand.
Support: Once in a blue moon you'll encounter a problem with your setup or service that you just cannot figure out. Rather than banging your head over the problem, why not get help from the people you are paying for the service? That is if they are helpful in the first place. This is why making sure that the customer support for the provider you are looking at is worth the while.
Cancellation and Trials: Let's say you have just decided to end a subscription. Providers will have different policies for cancellation. Some will offer next day cancellation and some will charge you for an extra month. It is best to know these policies when buying, so you can plan your subscription changes accordingly.
We have put together a review for Best Usenet Provider recommendations. So we hope this will help make your decision a bit easier. 
Now that you know what to look for when buying a Usenet provider, you can start learning to actually use Spotnet.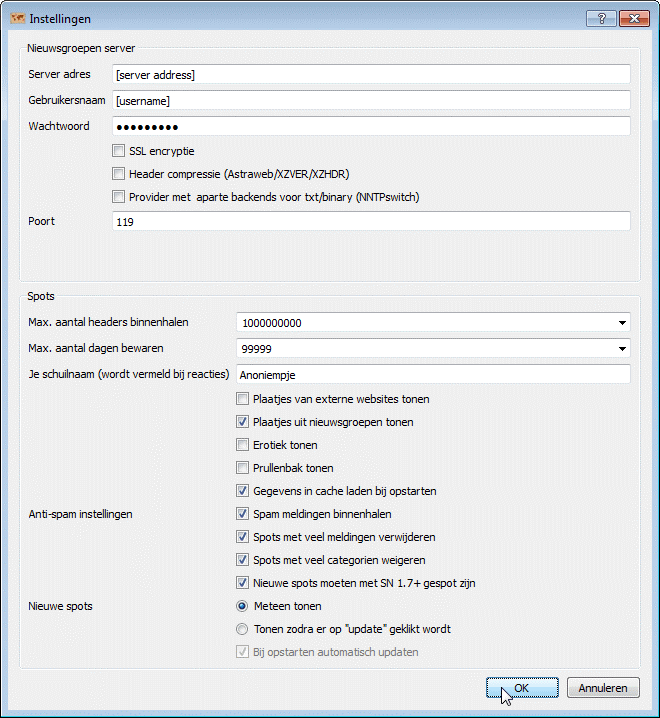 Let's say you have account to a provider like

IPVanish

or

Usenetserver

, it is time to install a client for these servers. For Spotnet you can go to

and get the latest version. Once you download the setup and open it, you'll see a window that is very familiar looking. It is a simple click and install, should not worry you that much.
Once it is installed, the tricky part begins. Using the SpotLite client, let us see how to configure it and get it running. When you open SpotLite, you'll see a configuration window like below. Unfortunately it is not available in English.

To better understand what is going on, let us see what fields and relevant and what they mean. The "Gebruikersnaam" is the username for your Usenet provider and the "Wachtwoord" is the password. Respectively enter them here.  
4.To get the "Server address", you will have to login in with your Usenet provider. Here you will find a link to a list of servers the provider's NNTP Server Address. Open up the link and copy one of the server addresses from this list. In the picture you can see me do this on my Usenetserver Usenet account.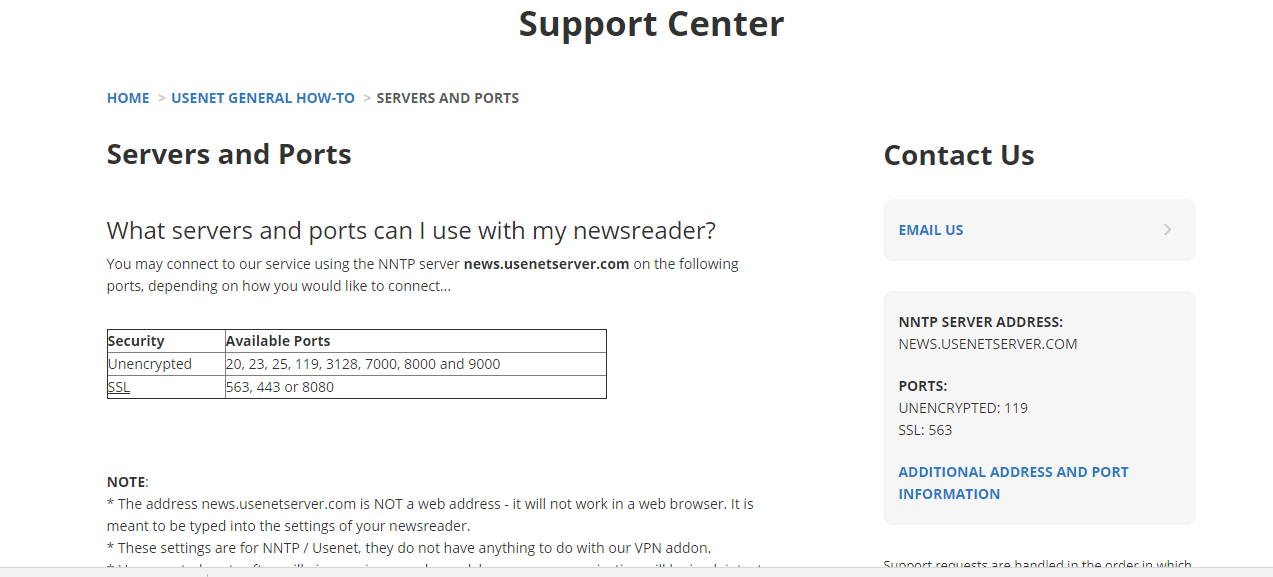 5.Once you have configured the client with relevant information and clicked "OK", you should be brought to the client main screen. You can see my configuration here:
6.Once on the main screen, it will start loading the spots. As you can see, there is a search bar on the top left. Here you may look for any files you need. As an example, I searched for "ubuntu".
7.Now, if you see a search result that you like, you can double click them to view details. It will load the spot in a new window. The details will include facts about filename, newsgroup and from which spot it originates. Like here:
8.You can use your search result to look up the name in a NZB search engine such as "NZBIndex" or BinSearch. Altenatively, you can click the button right next to the name of the file to navigate directly to their search engine result. Once you find the relevant file, you can click it to download the .nzb file, you can download the actual file by opening the .nzb in a newsreader such as SpotNet or sabnzbd.
9.You can see the .nzb being downloaded in the newsreader:
This way, you can download your files safely and securely. This comprehensively covers the basics of downloading files from Spotnet or even Usenet.  Now that you have learned a bit about Spotnet and Usenet, be sure to look at our  Best Usenet Provider recommendations.