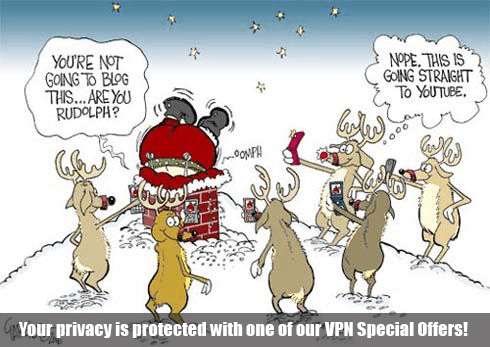 VPN Provider
Price
Features
Year End Deal 2017
$2,75/month
3 Year Plan $99 instead of $430


Double Data Encryption
Click & Go Software
Automatic Kill Switch
DNS Leak Resolver
780 Worldwide service in 57 countries and growing

VPN Deals 2018
$10.00

Kill Switch
Randomly switch your IP Addresses
7 day money back guarantee
24/7 customer support
40,000+ IPs on 500+ servers
in 60+ countries

$3.75/ month
First Year

App Showcase
Chameleon™
Defeats VPN Blocking
VyprDNS
NAT Firewall
North & South America, Europe, Asia and Oceania (700+ servers) Holiday Special Offers

$9.99

Unblock Websites
Enjoy Internet Freedom
Total Privacy
Dedicated VPN Accounts
Worldwide service and growing

VPN Deals 2018
$9.95

Dialer utility
Virtual Router
Unlimited Server
Switching
Split Tunneling
141 Total Countries, 180 Locations Worldwide, 500+ VPN Servers Online

VPN Deals 2018
$9.16


Protection against malicious websites
Save mobile data when browsing
Forces HTTPS secured connections
Antifingerprinting System
600 servers 30 countries and expanding
It's that time of year again for 2019 VPN Holiday Special Offers . The Holiday Season is almost here! Did you know there are several ways to utilize a VPN to make your life secure and easier. So let's look at how we can make the Holiday Season even more Merry and Bright.
2019 VPN Holiday Special Offers 
NordVPN Start off our 2019 VPN Holiday Special Offers  and it is a HUGE DISCOUNT 77%.
NordVPN believes one day of Promo is not enough so they are offering CYBER MONTH.
Which lasts from November 7 to December 7.
We can offer you a 77% discount on a 3 – Year Plan ($99 instead of $430)
It's a $2.75/month deal for 3- years of NordVPN Subscription.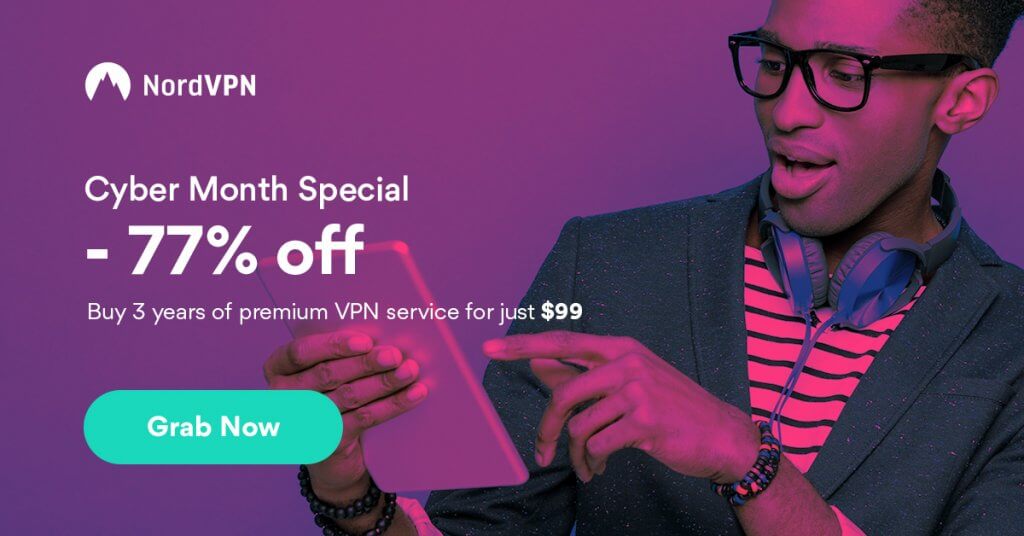 Here are some great ways you can take advantage of our 2010 VPN Holiday Special Offers .
Traveling – Are you traveling for the holidays? Going to spend the Holidays with family and friends. Then you are going to need A VPN. It ensures your privacy will remain protected and your connection secure at all times from any location. A VPN protects you from hackers and snoops on public Wi-Fi networks you encounter while you are traveling. Using the Wi-Fi at airport or using hotel networks is very unsecure. It also allows you to bypass censorship you may encounter when traveling to countries around the world.
Shopping – It is that time of year when your credit card really gets a work out. So take the time and purchase a VPN. See our Best VPN 2019 and of course take advatange of our 2019 VPN Holiday Special Offers . A VPN encrypts your Internet connection to secure it, so your privacy and personal details remain protected when holiday shopping online or even completing other transactions. This holiday season is a busy time for criminals and hackers to attempt to steal personal information, so using a VPN at this time of year is essential.
Keep in Touch – Sharing holiday memories is a big part of the holiday season. Technology makes it so easy but can be unsafe.  With a VPN, your privacy remains protected as you share memorable moments and communicate online or with messaging apps. So go ahead, Keep in Touch this season.
Unsecured Wi-Fi – Whether shopping or traveling and meeting up with family or friends during this holiday season. It's likely you'll encounter unsecured Wi-Fi networks. So be sure to use a VPN to secure your connection no matter where you are to remain worry-free!
Protect Your's and Your Family's Privacy – When family and friends come to stay give them the confidence that there is privacy and security for you and all your family members. With our 2018 VPN Holiday Special Offers  you are sure to be protected on all your devices.