DrunkenSlug
DrunkenSlug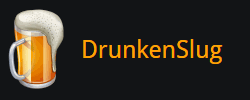 DrunkenSlug is an NZB indexer that has been around since 2013, which means that it has established itself as a reliable option among Usenet users. It is a well-regarded indexer. The site works on the nZEDb platform, which is based on the popular newznab plus platform that is implemented by some of the most popular Usenet indexing sites. This allows for automated indexing. DrunkenSlug has a sizeable community and a wide selection of NZBs, some of which are difficult to find anywhere else.
Features
The site has many features that make it an excellent option for anyone looking for an indexer. Usenet indexing sites allow you to search for specific files or posts on newsgroups and allow you to download header files that can be used with an NZB downloader such as Grabit or NZBGet. You will need a Usenet service provider that will allow you to access the newsgroups. UsenetServer is our recommended Best Usenet provider   and for good reason too.
DrunkenSlug is one of the most reliable Usenet indexers. They have dedicated daily backup servers, as well as powerful server hardware, which provide performance comparable to the best services. Their response times are excellent and the service is efficent at finding content that other indexers may not have available.
While DrunkenSlug may not have a ton of extra bells and whistles like etc, it makes up for it by providing robust service and a no-frills experience. There are only minimal ads on the website, even for free users. DrunkenSlug is particularly good at finding slightly older files as well. If these are what you're looking for DrunkenSlug is a great option for you.
Ease of Use
To get access to either the free or paid version of DrunkenSlug, you'll need either an invite to join the site or catch it at a time when registration is open for everyone. You can go here to check whether you can currently register for the website. If you can't, you may want to look around for invites or, if you're patient enough, set an alert for changes to the registration page using a service such as Visualping.io. Whatever way you get access to the website, you can now create an account which will initially start with a limited free subscription. DrunkenSlug also has a few other membership options, which are detailed later.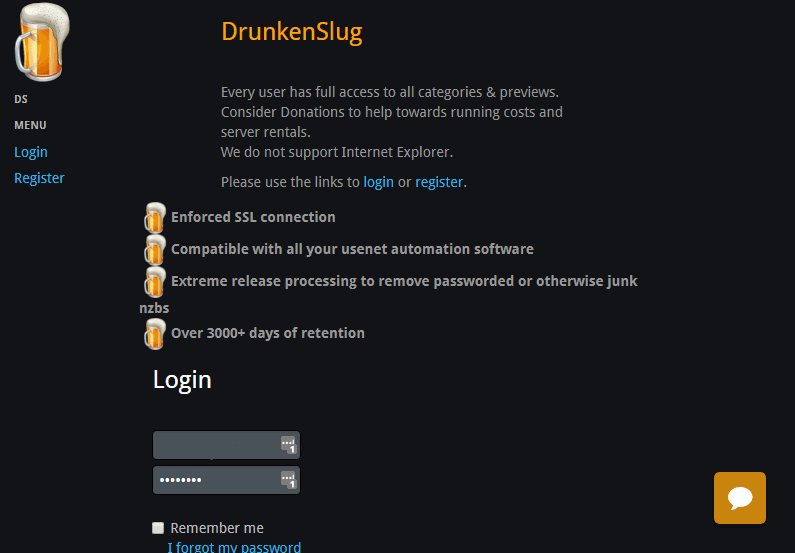 NZB's & Retention
DrunkenSlug provides the same amount of retention for both free and paid users, with over 1300 days and growing. This is comparable to some of the other top indexers and is plenty for the majority of users. The website crawls over more than 50 newsgroups, allowing it to build  a large repository of NZBs. Its indexer runs every thirty minutes, so it stays relatively up to date on the latest files uploaded to newsgroups.
Free Account Features
The DrunkenSlug forums are a great resource and are available, without restriction, even to free members. So, if you are able to get an account, you should make an account even if you have another indexer. The community is very helpful and if you're new to Usenet, it would be especially useful for you. DrunkenSlug does not however, have an IRC channel for its users, and you might want to look elsewhere if this was a major requirement for you.
API Integrations
The easy API integration makes DrunkenSlug ideal for use with programs such as SabNZBD. The API services can easily be integrated into applications, which allows them to use the data provided by DrunkenSlug. This allows for automated downloads using software like Sonarr and Radarr, as well as better UIs for searching for NZB files.
There are three types of memberships:
DrunkenSlug offers three different tiers of paid membership, as well as a free option meant for trial purposes. Even though it is only meant for evaluation, the free membership does not expire and allows full access to all sections of the website, including the forums. At any time you can choose to upgrade your membership to a higher tier. The primary difference between the tiers is the number of downloads and API calls allowed. The free membership allows for 5 NZB downloads per day as well as a 100 API calls. This may be sufficient if you have a very low usage requirement or are using it as a secondary indexer it will be beneficial to get a paid subscription. The second tier, titled 'lager', gives 5 times as many NZB downloads as well as 250 API calls per day. This level of service would cost you 5€ for a year. If you are a heavy user and would like to have an even greater limit, you can consider the two upper tiers of the service, which have significantly higher limits. The 'Ale' tier costs 10€ yearly and allows for 100 downloads and 1000 API calls per day. The highest tier, 'Wine', will give you 2000 API calls as well as 200 downloads per day, for 20€ yearly. This should be enough for even the most demanding Usenet users but there are others who provide a greater number of downloads for similar prices so you may want to gauge your needs and research a bit to find the best Usenet indexer for your particular needs. If you switch to a paid membership they sometimes offer deals. You may be able to get a few months extra, as they usually offer a deal once a year.
Membership
DrunkenSlug offers multiple secure and safe payment options, meaning that privacy when accessing the payment method know it is secure. You can pay using either Credit Cards or Bitcoin. Additionally, you can use Amazon Gift Cards as a form of payment.
Security
For Usenet users, privacy is always a priority and indexers are no exception. Bugs such as HeartBleed have exposed many unsafe websites and so you must be extra careful with this regard. DrunkenSlug uses HTTPS and SSL protocols to deal with this issue. These protocols encrypt your data so that only you are able to access it. For those who want to be extra careful with your data, you may want to use a reliable VPN while utilizing Usenet.
Conclusion
Overall, DrunkenSlug is certainly a great service and we would certainly recommend the service. However, it does not have a lot of features that sets it apart from other competitors and it does provide fewer downloads than some other competitors. It does rectify this by providing a reliable and easy to use service. If you're looking for a Usenet indexer, you can't really go wrong with a solid option like DrunkenSlug, provided you can find registration. Check Our Best Usenet Providers.