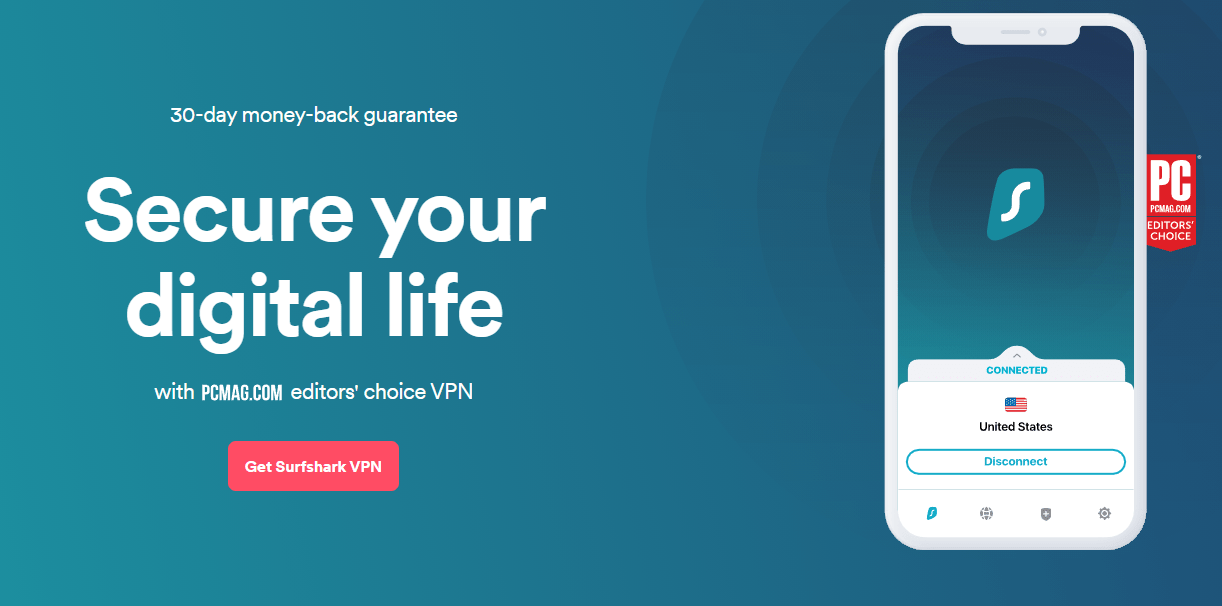 Surfshark VPN is an award-winning, secure VPN that encrypts your online data to help you stay private protected every day, hassle-free. A Virtual Private Network (VPN) is a technology that allows to securely connect to the internet and protect your data by sending it via an encrypted tunnel Dive into a clean cyber ocean with no ads or trackers, connect all the devices you own, allows apps to bypass VPN, and so much more.
Well that's what Surfshark VPN is – a multipurpose VPN service at such reasonably low rates that you will be shocked to believe what you see!
Surfshark is a relatively new VPN, founded in 2018 in the British Virgin Islands, which offers a Many features, and is off to a great start, being a comparatively new brand in the VPN market. Surfshark is the next best thing for VPN users in the tech market.
Pricing and Plans

They are always offering you great deals like their 85% off on their subscription offers. Priced as low as $1.99 per month (billed $47.76 every 27 months), with the first 3 months being free, Surfshark VPN is offering a one-of-a-kind package that you just can't ignore.
Normally, they charge $11.95 per month, which is billed every month, with a 30-day money back guarantee too. The plan includes all features and is priced pretty reasonably, if compared to the other top VPNs in the market.
Surfshark VPN
They also have a discounted plan where you pay $5.99 per month (billed $71.88 every 12 months), hence, saving 50% of the original price plan.
There are multiple currencies you can pay with – the USD, AUD, CAD, CNY, EUR and GBP.
Apart from the regular subscription plan, Surfshark VPN also allows you to activate HackLock and BlindSearch on your account, just for $0.99 per month.
The subscription process is fairly simple and involves 4 steps only:
Choose a Plan
Create an Account
Activate HackLock and BlindSearch (Optional)
Select Payment
How to Pay for Subscriptions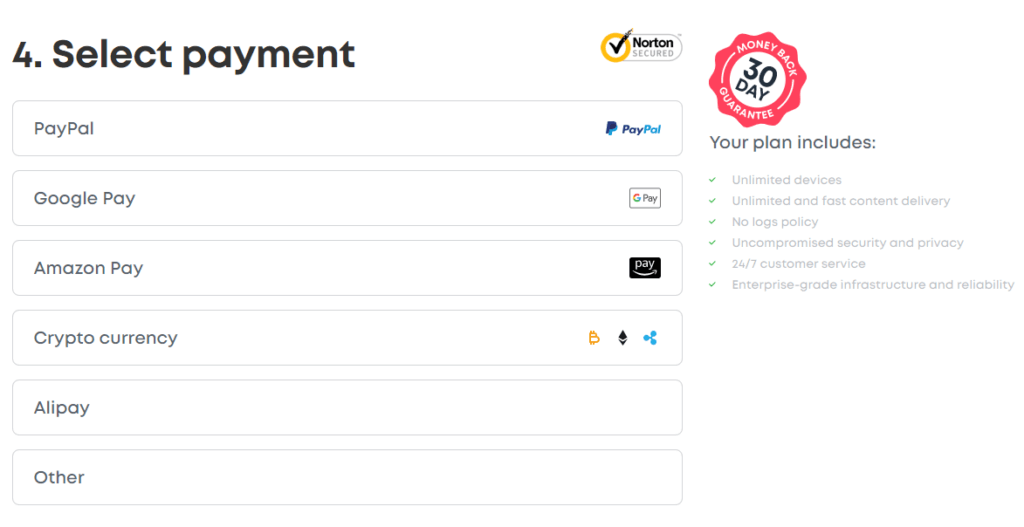 The payment options available on the Surfshark VPN website include:
Credit Card (VISA, MasterCard, AMEX, Discover)
PayPal
Google Pay
Crypto Currency
Given the range of options provided, I think they have covered majority of the options so as to cater to the convenience factor for their potential customers.
Features Offered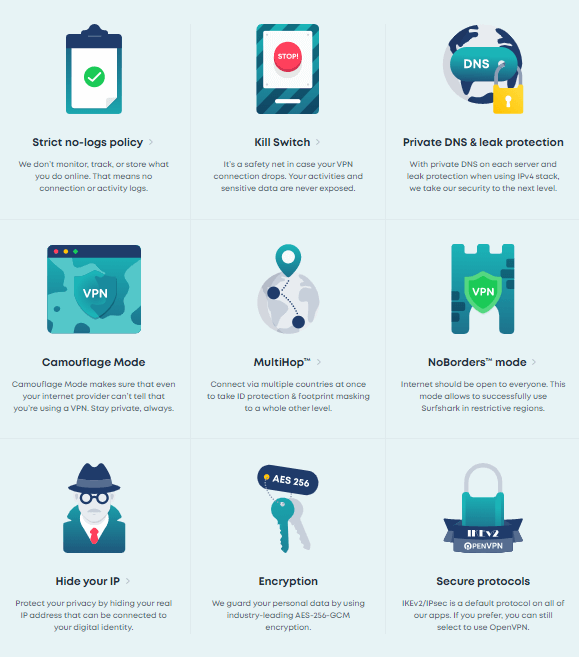 Surfshark VPN offers a bundle of the top-demanded features by customers in the VPN market. It not only offers the basic demanded features, but also the added security tools that will protect you across multiple devices simultaneously. Let's have a look at the features offered by this VPN service.
First up comes the feature of "Instant Security". Cyber crime is on the rise in this modern day and age, and Surfshark offers you protection from data theft, tracking, surveillance and commercial targeting. It also protects you on public wifi connections, so you are not exposed to hackers that may be lurking around you. The malwares integrated into Surfshark VPN offer diamond-strong end-to-end encryption for all your highly secure online transactions.
Moving on, Surfshark VPN goes big when it comes to the issue of "Instant Privacy", which is the highlight of all concerns of the internet users of the 21st century. As long as you have Surfshark, there is no need for you to worry about your IP address being tracked because your privacy is their duty and they do it very well.
One of its best features is its concrete security model that prevents any sort of leaks or viruses. You can add Surfshark VPN to as many DNS Leak Tests as you like, and you will always get the result you want from a VPN service – an extremely reliable leak-free service.

Surfshark is easily able to implement its strict no-logs policy, whereby they have absolutely no data on your online activities and personal info, except for three things – your billing information, an email account to reach you by and diagnostic reports for any crashes that you might face and file.
Although the speed Surfshark provides is very fast with an unlimited bandwidth, it does get inconsistent at times, which isn't very favorable.
Some other notable features that this VPN provides are:
A Kill-Switch that helps you disconnect from the internet when the VPN server crashes.
A Camouflage Mode that keeps even your ISP from knowing your that you're using a VPN. The WhiteLister feature that allows you to integrate your VPN with certain sensitive apps (e.g. a banking app).
Support
The Surfshark  VPN website is very user-friendly and fresh; it is available in 10 different languages to be accessible to users around the world. There are multiple options that provide customer support in the easiest and simple use.
You can chat to a customer service representative online by clicking on the blue chat icon on the bottom right of the webpage.
You can view the FAQs available on the website on many queries that customers have previously asked.
You can watch tutorials on various issues that may crop up for VPN users, in the categories of manual setup, applications usage, routers, and much more.
You can directly reach out to them over email as well.
Protocols Offered
Quality and user-friendly service is part of their promise to their users and they have ensured that by using the leading protocols in the industry. Surfshark VPN uses IKEv-2, IPSec and OpenVPN/256-bit AES security protocols to provide the best service to their customers, and these reflect in the complex integrations this VPN allows you to have across multiple platforms, simultaneously.
Installation & Interface
The installation for Surfshark is as simple as it gets – once you've purchased the software, all you have to do is download it and run it!
The interfaces Surfshark VPN is compatible with include macOS, Windows, Linux, iOS, Android, Chrome, Firefox, FireTV, AppleTV, Xbox, PlayStations, and more.
And if you don't know what to do, then the website has free tutorial videos for customers to watch and learn from, so processes become easier for them.
Servers & Locations
Surfshark has over 1000 servers in more than 60 countries across the globe, with all features available everywhere. Its customers are spread all over the world.

Performance
Surfshark  VPN is indeed a VPN service suited to the user, but with its many benefits. Let's look at both sides.
This VPN service has a very user-friendly interface and a prompt customer support service online, which makes it easier to avail all the features it offers. It gives you access to Netflix USA and many more restricted sites that you won't be able to access normally. Keeping its wide compatibility across multiple countries in view, it has exceeded the base speed across different testing periods, which is great. The connection times for Surfshark VPN have been quite fast..
Conclusion
Surfshark is a top VPN Service in the  market. It is incredibly user-friendly with layouts that are simple and easy to navigate around on multiple platforms in multiple locations, simultaneously.
But if you are looking for a VPN service, I'd definitely say Surfshark is your best choice out there, especially with their special offers, so hurry up and subscribe now!
Best VPN 2023