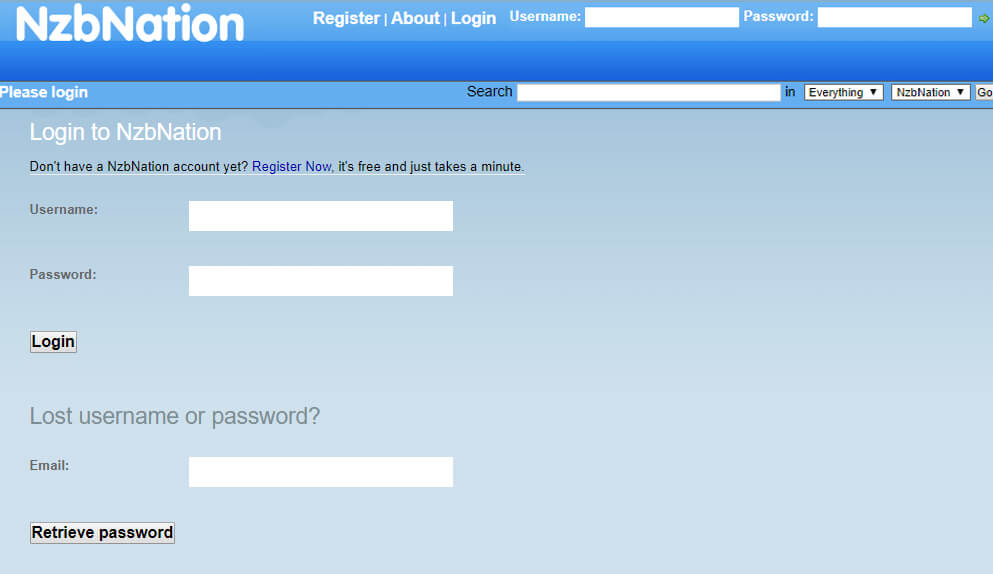 NZBNation is one of the oldest Usenet indexers that are still running. The website was initially founded in 2008, as a way to host NZBs. This would allow its users to search for specific files on Usenet server without having to scour through browsing newsgroups to look for what they need. This indexer has a free membership, as well as a wide array of filters and search categories to make sorting results easier. There's no need for an invite and anyone can just register on the website. It's important to realize that the NZB file is only a sort of a link to the actual file you want. To download it to your PC, you'll also need a newsreader software and a Usenet service provider. We recommend UsenetServer, they are a perfect fit for your NZBNation account. They our First Choice for Best Usenet Provider.
Features
The features available for NZBNation is basic. All you need to have is a free membership but for premium users, they have a lot more options. Free users can mostly only search for NZB files and download them. If you have very specific requirements, premium users can perform advanced custom searches where you can select multiple parameters to filter and sort results. You can also set up RSS feeds so you can be informed when new downloads are added for that search term. There is also a forum where users can talk about releases and request specific NZB files. NZBNation relies on its users and features like this forum to keep its index of NZB files up to date. This forum is only accessible to members, so you need to have the premium membership to request files. The platform has thousands of NZBs you can search through.
Memberships
As previously mentioned, this website has both paid and free membership accounts. Free users get a very basic number of features and limited numbers of downloads per day. You're allowed to download a maximum of 15 NZB files each day. Additionally, the retention is also restricted to just 25 days.
If you get a paid subscription, you will unlock a whole bunch of extra features. These include a watchlist, where specified searches are emailed to you periodically. You can also browse for NFO and PAR files, which makes it much easier to repair files. More detailed file information is also available and you can see more specific details about individual files. You can download multiple files together and bookmark any files you want. This membership also allows you unlimited NZB downloads as well as a much larger 240-day retention period. There are also no ads on the website and you get access to support for the NZB site's services.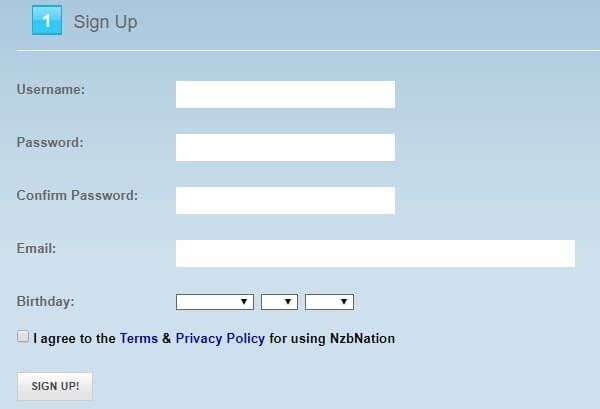 Membership Plans
To get a free account, you don't even need an invite. You can just use your email to sign up on their website. You can't currently get a paid membership and it's been disabled for a while now. They haven't given any indication on when it will be available. This is a shame because many of the most useful parts of the service are only available to paid users.

Technical Details
Unlike other top NZB sites, NZBNation doesn't use an automatic indexing platform but rather a custom system. NZB files are manually submitted to the website and they can be downloaded by users. Users can search through all of the uploaded NZB files.
NZBs & Retention
NZBNation has stored thousands of NZB files that users can download. The maximum retention time for the NZB files is 240 days but this is only available to paid users. Free users, on the other hand, have a lower retention rate of just 25 days. This isn't a lot compared to some other top NZB sites and this is one place where NZBNation is lacking.
API Integrations
Another of the Usenet indexer's shortcomings is that it lacks integration with other pieces of software. The custom-built indexer is not compatible with the standard API used by more widely utilized platforms like Newsnab. This means that users looking for a more sophisticated experience may want to look for other options. This indexer will work fine if you only want to search NZBs and download them through the website. However, if you want to make use of cool automation programs like Radarr and CouchPotato, you'll need a different NZB site such as NZBGeek.
Ease of Use
The interface of NZBNation is simple and easy to understand but it is a bit lacking. You can figure out what you need to do but there aren't a lot of explicit instructions. Additionally, the design still looks like it came from 2008 and so it can be a bit jarring browsing the website. We also faced a lot of issues as sometimes no NZB files would show up as search results even though it should have had many different results.
Search statistics
There are over two hundred thousand members of NZBNation. This includes both paid and free users. This means that there's a community around the service, which can help you out in case of any issues.
Security
This is another area where NZBNation is not up to date with the latest trends and improvements that have been made to top NZB sites in the past years. The service does not support any kind of encryption, so the connection is unsecure. The lack of SSL makes this website hard to recommend for privacy conscious individuals. Also, the only payment method is PayPal, which is less anonymous compared to cryptocurrency.
Search lists(example)
You can search according a number of parameters like category, subject name, today's posts, NFO information and PAR files. Additionally, you can filter your results by metrics like file size, comment count and the age of the post. This allows you the flexibility to find exactly what you need and remove any irrelevant results.
How to utilize
To start using NZBNation, you must first register for an account. Once you do this and log in, you can type your query into the search bar. You should click on the NZB tab on the search results page. Select the files you want and click on create NZB, to get your desired NZB file. You can now use the NZB file with a newsreader to download the content you need from Usenet servers.
Conclusion
NZBNation has some great features but it falls short in a couple of major areas which make it hard to recommend it to anyone. New users cannot get the premium membership, which restricts access to a lot of the service's best features. Additionally, many features present in more current NZB sites are missing. For example, the website's security is lacking and automation is not possible. You might want look at other options like NZBGeek. The free version of the service may still be useful for novice users though. When looking for a NZB service you will also need Usenet Provider. We have done the research for you. So check out our picks on Best Usenet Provider 2022.