NZBKing
NZBKing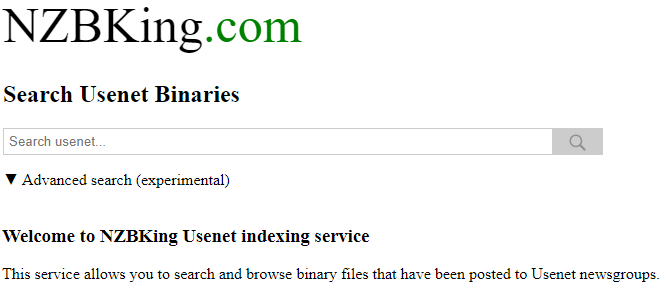 NZBKing is a Usenet Search Index. In order to understand what this is, we will first explain Usenet. Usenet is a worldwide network of computers, exchanging messages and or articles. These articles are organized into newsgroups hierarchy. NZBKing is continuously scanning binary groups for new content and automatically grouping messages using a pattern-matching algorithm on subject-lines to identify the binary posts. An indexing engine then keeps track of these postings and this web-service provides searching- and browsing capabilities. Once you have found the binary content you are looking for you can mark the posting and download an NZB-file than instructs your newsreader how to download the files. You will need a Usenet Service Provider like UsenetServer. UsenetServer has everything you need to complete your Usenet experience.  They offer Usenet Newsreader  Software and a VPN for complete privacy and anonymity.
What is NZBKing?
NZBKing is a Usenet search engine, which is also called a Usenet indexer. These indexers can come in three different types-public, open and invite-only.
Public indexers can be used without any prior registration and are thus the easiest type of Usenet search engines to get started with.
Open search engines are available to everyone but they require users to sign up before they can use the service.
Invite-only services are only accessible if you can receive an invite from an existing member or you can catch them at a time when they are open for registration.
Search engines allow you to download NZB files which can be used with  UsenetServer Newsreader to allow you to download articles from Usenet  News Servers.
Why do I need it?
While you may know what a search engine does and how it could be used, you may be wondering if you actually need it. It Makes browsing Usenet message pretty easy. You can directly download NZBs and use them with your newsreader. While a search engine or indexer is certainly an important to have  in your Usenet toolkit, there are also some other requirements that are necessary for you to be ready to take advantage of Usenet to its fullest. First, you'll definitely need a Usenet service provider to allow you to access content on Usenet New Servers. UsenetServer is our choice for Best Usenet Provider.


How to Use?
Using NZBKing is pretty easy, even if you have no experience with Usenet. It is like performing a Google search, you just type in what you're looking for in the search bar and press the search button or hit the enter button and you'll be taken to a screen where all the results will be shown to you. You can then select the specific files you want by ticking the checkboxes and clicking the 'Download NZB' button. All of the files you have selected will be packaged into a single NZB file. The NZBs aren't the actual files that you want but actually sort of links that your newsreader can use to download.
NewsGroups
NZBKing provides you access to many different Usenet newsgroups, which will provide you access to a variety of content available on Usenet. The website has indexed 3568 Usenet groups altogether and they continue to expand to improve upon their offerings. There are 140 million different files that can be searched through NZBKing and new files are constantly being indexed. This means that it is likely that you can find whatever you're looking for using NZBKing's search.
NZB Creation
One of the best features of NZBKing is the ability to create NZB files for all the various downloads you need into one single file. This saves you from needless clutter in downloading multiple different NZBs and then individually queuing them up for download.
Retention
Retention is one of the most important factors for choosing an indexing service for Usenet. The retention is the number of days that indexed files are kept track of. If a file was indexed before the retention rate, they are no longer available to be displayed as part of the search results. NZBKing has a retention of 1000 days, which is sufficiently large enough for most people and is comparable to the retention of most other free indexing services. While this is certainly good, some invite-only services can provide longer retention times and if you need that, you may have to look elsewhere. UsenetServer provider 3952 days of retention, they are a great alternative for a Usenet Provider.
Filtering
Unfortunately, this is where NZBKing falls a bit short of its competitors. Not only does it not allow you to set any advanced filter settings, it does not allow you to select which newsgroups you want to search through. UsenetServer Global Search,  is an excellent search engine,
Conclusion
Overall, the search system on the site is easy to use, even though it employs a very complex algorithm in its search. The user experience is great and there are no major issues with the service. If you are looking to try a new indexing service NZBKing is definitely one to try out. The service is free to use and so you might as well try it to see if you can get the binaries you need. You need to signup for UsenetServer to make your Usenet Experience complete.