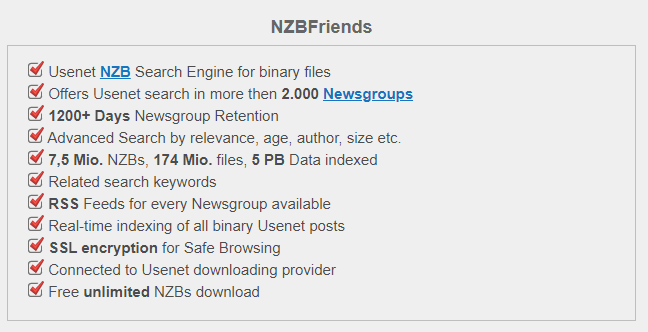 NZBFriends is a Usenet search engine that indexes files  newsgroups so you can search through them and download what you are looking for. This search engine came into being in its current form around 2011, so it has been reliable and present for a whole now. This NZB search service indexes over 2000 Usenet newsgroups and has a very large number of NZB files indexed in its database. NZBFriends prides itself on its unique search algorithm, which allows flexibility while still being easy to use for beginners. The advanced search features are a major highlight of NZBFriends.
Easynews is our top choice among the Best NZB Index Sites 2023. It is a complete all-in-one solution that includes unlimited high-speed Usenet access plus a Usenet search interface with the most accurate Usenet search results. The interface is easy to use — just log into your Easynews account, enter your query into the search bar, and hit enter.
Other features:
Highest retention rates / largest Usenet archive
Retention grows daily (no Usenet posts are expired)
Fast and accurate results
Easy to use, fully customizable search interface
No NZBs, indexers, or newsreaders needed
Can be accessed from any device (mobile and desktop)
This will also save you the hassle and added cost of subscribing to
various NZB indexers since you get unlimited access + unlimited Usenet search with your Easynews account
Exclusively through Usenet.com: Get 3 FREE Months of Easynews – Includes 30 day MBG + Free Upgrade to Unlimited (normally 150GB/mo)
Features
For a free service, NZBFriends has quite an impressive feature list. The Usenet search service has over 7.5 million NZBs indexed, which amounts to more than 5 Petabytes of data stored. This means that over 174 million binary files are available to search through. The retention period is also impressive at 1200 days and SSL encryption is also available. You can download an unlimited number of NZBs and the site's search functionality is truly great. You can sort by relevance, author, file size and an array of other metrics. You can also filter out results according to their group or age. This allows you to remove any results that aren't relevant to you, cleaning out the results page and making it easier for you to find what you need from Usenet New Servers.
You can also browse through lists of popular keywords so you know what other people are searching for and you can recent posts on Usenet so you're updated on what the latest files being posted on Usenet are. You will need a Usenet Provider and we recommend UsenetServer. You can also browse individually through the most popular groups and see what is being posted on them. RSS feeds are also available for individual newsgroups if you wanted to stay up to date with the latest releases.
Memberships
NZBFriends is completely free for all users. You can download any number of NZB files and get the Usenet binaries you need, all without even having to register for an account. This does mean that NZBFriends has to cover the cost of operation through other means like advertisement and affiliations with other websites. This includes NZB downloaders like GetNZB, as well as other NZB search services like FindNZB.
Technical Details

NZBFriends uses a unique algorithm to crawl through over two thousand newsgroups, indexing each binary file that users may want to search for. This amounts to a massive total of 5PB of data and over 175 million binary files. For context, one petabyte is more than a thousand times the capacity of a modern personal computer. The website's optimization still allows it so that your search still happens within a fraction of a second even though you are searching through millions of files.
NZB's & Retention
This binary search engine has a retention of over 1200 days. This means that Usenet binaries that have been indexed will be available to search through for 1200 days before they are removed. This level of retention for more than 2000 Usenet newsgroups translates into the gigantic 5PB number previously mentioned. NZBFriends' retention is 100 days more than the similar Binsearch, which has been users' free search engine of choice for a long period. Some of the older, less popular groups are basically abandoned though, so people with niche interests may want to look elsewhere. The more mainstream groups are frequently indexed though and are kept updated, almost in real-time. So, this is probably extensive enough for most users looking to get into Usenet.
API Integrations
As this is a free service based on its own platform, NZBFriends does not have a compatible API with any of the programs and services that allow you to manage and schedule downloads automatically, according to rules that you specify. This is a bit of a negative but this website is meant to be used more like a traditional search engine.
Ease of Use
The interface of NZBFriends is intuitive and you don't have to think much to just start using it. The main search bar is clearly visible and even advanced search options are easy to get to. Overall, NZBFriends is easy to use. The homepage is well designed to place the important things front and center, making the user's experience much better.
Security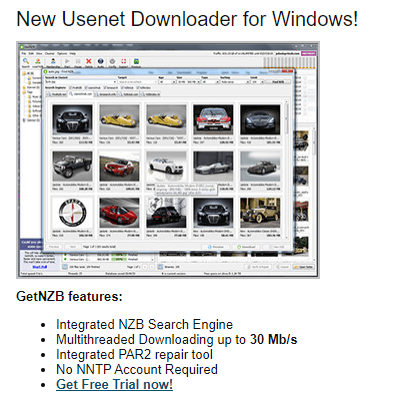 This NZB search service provides SSL security, so you can establish an encrypted connection with their servers. This means that you can be surer that third party service cannot see what you are doing on the website. For any privacy concerned individual, this is absolutely essential but you may still want to go a step beyond and use a VPN service to protect yourself further. At the time of writing, we were having difficulties establishing a secure connection with the service, because it did not have the required SSL certificate.
How to utilize NZBFriends
This NZB search engine is really simple to use. All you have to do is type in your query into the search bar and click the 'Find in Usenet' button. The website will show you all of the results that match your search term. You can click on any of the results to view what files it has. You can individually select files or select all of them at once. Clicking the create NZB button will let you download the NZB file from the website. You can now use this to get your desired content from the Usenet servers.
If you're having trouble with finding something, you can use the advanced search to narrow down your search to exclude any irrelevant results. Click on the advanced search link and set the parameters according to what you are looking for.
Its important to note that getting the NZB file is only part of the whole process of downloading your file. You will also need a Usenet service provider as well as a newsreader. A Usenet service provider is what actually allows you access to Usenet servers by mirroring the files onto their own networks. You can get a subscription to a popular service like UsenetServer. The software that actually allows you to download the content is called a newsreader. There are free options available but you can get 30% off on GetNZB, using the discount code provided by NZBFriends.
Conclusion
Overall, NZBFriends is a really good at what it does. For a free search service, it does almost everything you need it to do without any unnecessary bells and whistles. The only thing lacking is proper API integration and an overall lack of community. While there are loads of people who use the service, the absence of a discussion forum means that there's no place for a community to form. This means that other people won't really be able to help you out if you have trouble with NZBFriends services. It's still a great option to consider, however, especially, if you're new to Usenet. Be sure to check out our Best Usenet Providers.