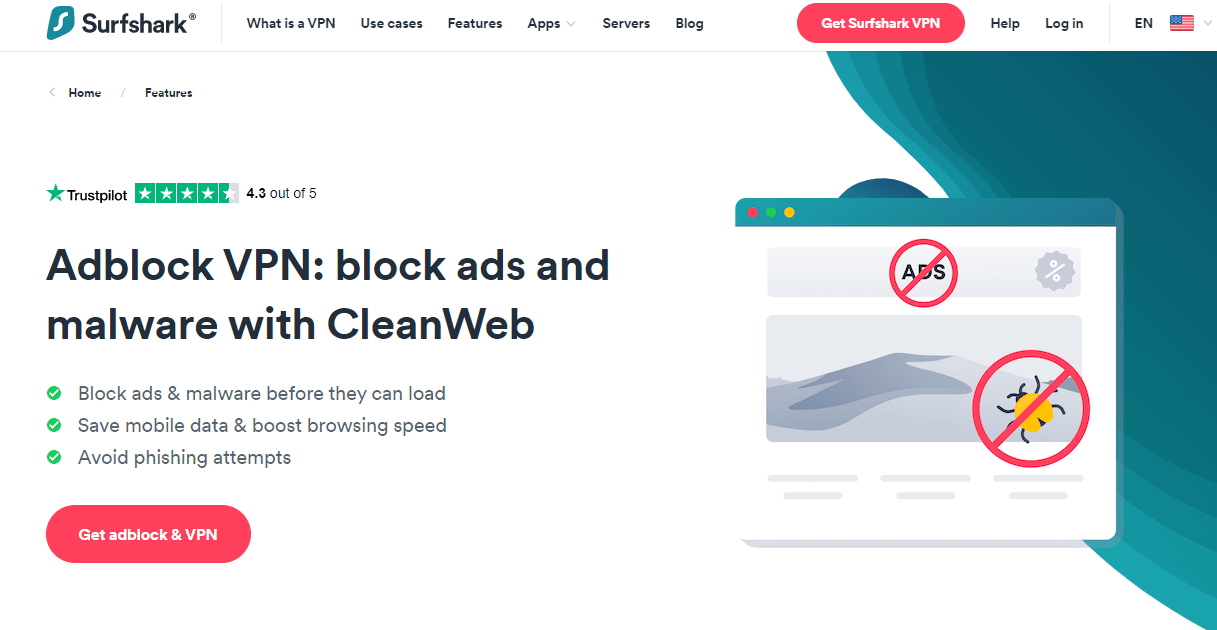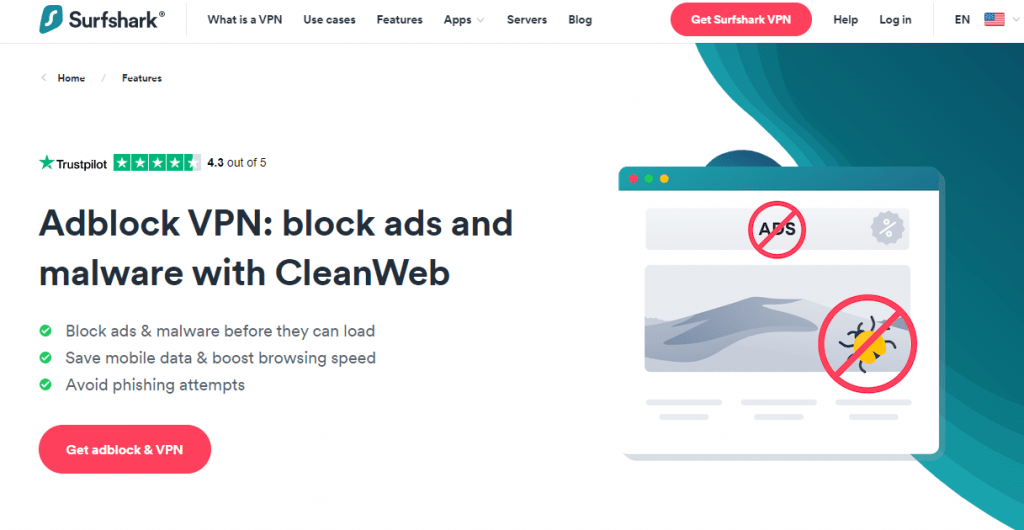 Can VPN Provider Block Ads?  VPN is a very effective privacy tool that can help you stay anonymous online and access geo-restricted content from Netflix and other online streaming platforms.  As most VPN uses encrypted communication, it also stops tracking entities from tracking your online activities. However, Online Ads are something that is overlooked by many users, which can seriously breach your online privacy.  Many online Advertisers use the Ad IDs to personalize the Ads for users, which can potentially allow anyone to track your online activities. There are some VPNs that come with a built-in Ad-Blocker, which you can use to block annoying ads. If you are interested, keep reading because we will share our Top Picks for VPNs with Ad-Blockers. Let's get started. 
Can VPN Provider Block Ads?
Not all VPNs come with the AdBlocker, which means that not every VPN can block Ads. However, the ones that come with AdBlocker can Block Ads and protect you from annoying Ads.
VPN with Built-in Ad-Blocker is an ideal choice because these VPNs effectively block Ads without slowing down your system. Once you enable the Ad-Blocker, the VPN will ensure that the Ads don't pop up on the screen, and all Ads will be blocked automatically.

How do Ads Track our Online Activities?
Online Ads have come a long way since their inception, and now they are better than ever. Many companies track the users' behaviors and then use that information to personalize Ads for them. Ads Companies uses cookies, Beacons, and Fingerprinting techniques to collect data about how you behave online.
Cookies are basically the small files that get stores in your browsers. These files help the website identify you and then use the recorded data to personalize the whole experience for you.

Beacons are another very effective way to track your online activities. These are small transparent images with a pixel size of 1×1, which makes them unnoticeable to us. Beacons track the data, such as how many times you loaded your page, which helps Ads Companies to monitor their Ads Campaigns.

Last but not least, Fingerprinting is another very powerful technique that allows Ads Companies to identify your device. In this method, the Ads Companies combine the various attributes of your devices, such as OS, version of your Web Browser, Language, and IP Address, to identify your device.
Ads Companies combine these three techniques to identify and track your online activities. So, it's important that you use an effective Ad-Blocker to Block Annoying Ads and beef up your online privacy. Can VPN Provider Block Ads?

What are the Best VPNs with Ad Blockers?
There are tons of VPNs available, but only a handful of them comes with Built-in AdBlocker, and we have handpicked the best ones for you. Let's have a look.
NordVPN
NordVPN is one of our most trusted VPN Services when it comes to Ad Blocking. The Company has been around for more than 8 years, and it enjoys a good reputation among the community.
NordVPN comes with a very advanced Ad Blocker known as CyberSec, which does more than just blocking Ads. CyberSec also automatically blocks all trackers, malware, and even phishing domains that can affect your device. The Company maintains a huge database of websites that are known for hosting Ads, Malware, Spyware, and Trackers. Whenever you access any website through NordVPN, CyberSec accesses the database and then use that information to block Ads and other threats in a very effective way.
Along with CyberSec, NordVPN also comes with other promising privacy features such as Double VPN and Tor-over-VPN, which you can use for additional privacy. Another great thing about NordVPN is that the Company doesn't keep a log of your activities and uses Encrypted channels to forward your traffic which means that no one will track your online activities. If you are interested in NordVPN, we urge you to check our complete NordVPN Review, where we have discussed everything in detail.

Surfshark
Surfshark is another very promising VPN Service with Ad Blocker. It's a relatively newer VPN Service, and it started its operations back in 2018, but the Company has become one of the most reputed VPNs due to its impeccable service.
The Company offers high-end features such as a variety of servers, encrypted traffic channels, a strong privacy policy, Automatic Leak protection, and access to geo-restricted content, which make it an ideal option for a man.
It's also one of the very few VPNs that comes with an effective Ad Blocker. The Ad Blocker in Surfshark is known as CleanWeb, which makes it easier for you to browse websites without Ads. Like NordVPN, Surfshark also maintains a huge database of websites known for Showing Ads and having Malware, Trackers, and other dangerous things. When you use CleanWeb, it checks your request against the database, and if you try to access the dangerous website, it will blocks content so that your device doesn't get infected. If the website is known for showing Ads, CleanWeb will automatically block all the ads and give you a better experience. On top of that, Surfshark also comes with BlindSearch Feature, which is more like an incognito mode but a really good one. 
Surfshark also comes with strong Encryption and security standards that ensure that the traffic from your website to servers is completely encrypted. Similarly, you will have access to over 3200 servers across 65 countries which you can use to access geo-restricted content of supported regions. Overall, Surfshark is a very capable VPN with Ad Blocker. If you are interested, please check our Surfshark VPN Review, where we have explained various aspects of Surfshark's Service.

TunnelBear
TunnelBear is one of the most popular VPN Services, and it's known for its quality services. The Company started its operations in 2011, and it was later acquired by MacAfee LLC, a well-known name in the cybersecurity industry.
The Best thing about TunnelBear is that it offers a free Ad Blocker known as "Blocker." It's an advanced AdBlocker that blocks not only simple Ads but also other malicious techniques which can be used to track your online activities. The Blocker effectively blocks suspicious websites and scripts to ensure that your device doesn't get infected.
Another great thing about the Blocker is that it also blocks the microphone on your device, which bars the Online Advertisers from ultrasonic tracking. Overall, Blocker by TunnelBear is a very effective Ad Blocker. We would also recommend that you consider using TunnelBear VPN, which will ensure that no one could track your online activities. TunnelBear VPN uses advanced encryption standards to ensure that all the traffic from your device is encrypted. On top of that, it comes with a strong privacy policy, which ensures that no one could know what you are doing online. If you are interested in TunnelBear, check our TunnelBear Review, where we have explained everything in detail.

Conclusion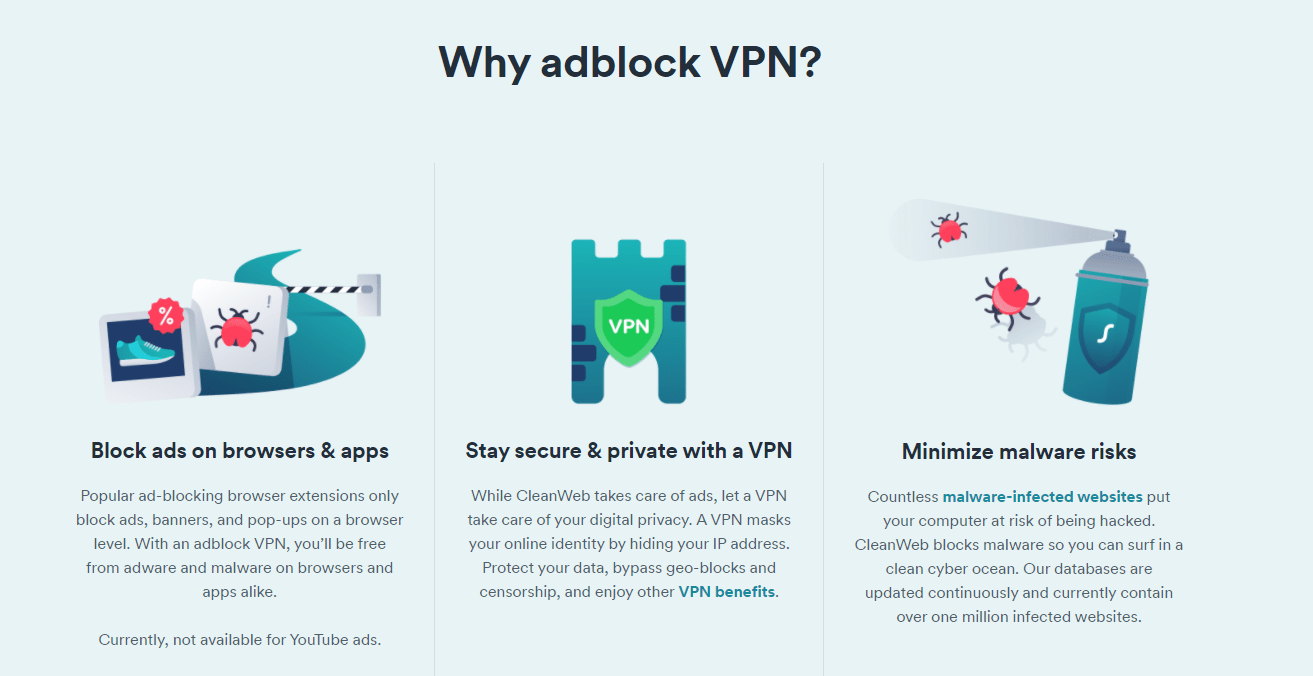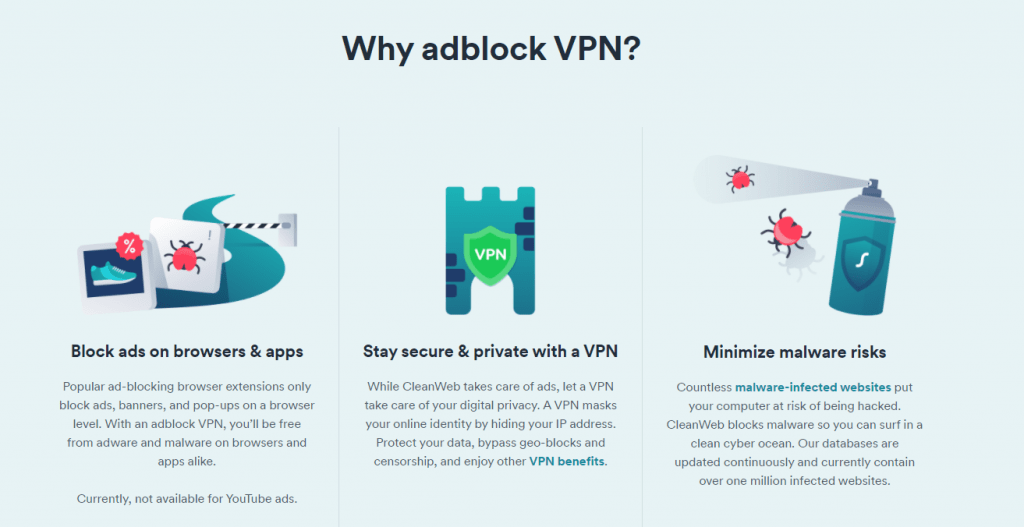 Can VPN Provider Block Ads? Online Ads are more than just Ads; they come with trackers which allow Online Advertisers to track your online activities. If you don't want to be tracked online, then using a VPN with Ad Blocker will be a good choice. In this guide, we shared the best VPNs with Ad Blockers, which you can use to block Online Ads and protect yourself from malicious Websites. If you want more options, check our Top VPN Picks, and if you have any questions, please check our VPN FAQ section.