TunnelBear
TunnelBear Review: Everything you need to know
TunnelBear is one of the most reliable VPN services and it started its services back in 2011. The company operates from Canada and it was acquired by McAfee LLC in 2018. McAfee is considered the largest dedicated security technology company in the world and it is managed by the Intel. TunnelBear is known for its reliable VPN services as well as top of the line security features. In this comprehensive guide, we will tell you everything you need to know about the TunnelBear. Usenet.com reviews the VPN services to ensure that you find the right VPN service for you. You can find complete reviews of all major VPN services on our website. Now, let's get to this review.
Pricing and Plans
The company offers three different plans including the free one.
Free Plan
Unlimited Plan
Teams Plan
Free Plan
Free Plan is the trial plan which you can use for free without paying a single penny. In this plan, you get the 500 MB of secure browsing which you can use to test the service. You will get the following features with this plan.
500 MB of secure browsing
AES 256-bit Encryption
Lightning-fast speed
Secure browsing
No logging
Features such as GhostBear and VigilantBear.
Unlimited Plan
The Unlimited Usenet Access Plan is the standard plan and it works well for an average VPN user. In this package, you get unlimited secure browsing and you can connect up to 5 devices with the TunnelBear. Getting the Unlimited Plan also brings the priority customer support and you will get the fast replies. If you get this plan on a monthly basis then it would cost you $9.99 per month and if you choose the yearly subscription then it would cost you $4.99 per month. A yearly subscription will get you a 50% discount. It comes with the following features.
Unlimited Secure Browsing
5 connected Devices
Priority Customer support
AES 256-bit Encryption
Lightning-fast speed
Secure browsing
No logging policy
Features such as GhostBear and VigilantBear.
Teams Plan
Teams Plan is for the business who wants to use the TunnelBear for their operation. The package comes with unlimited secure browsing and it allows up to 5 connected devices per user. It also comes with a dedicated account manager and centralized team billing and management. You can get this plan for just $5.75 user per month. In this package, you get the following perks.
Unlimited secure browsing
5 connected devices per user
Dedicated account manager
Centralized team billing and management
AES 256-bit Encryption
Lightning-fast speed
Secure browsing
No logging
Features such as GhostBear and VigilantBear.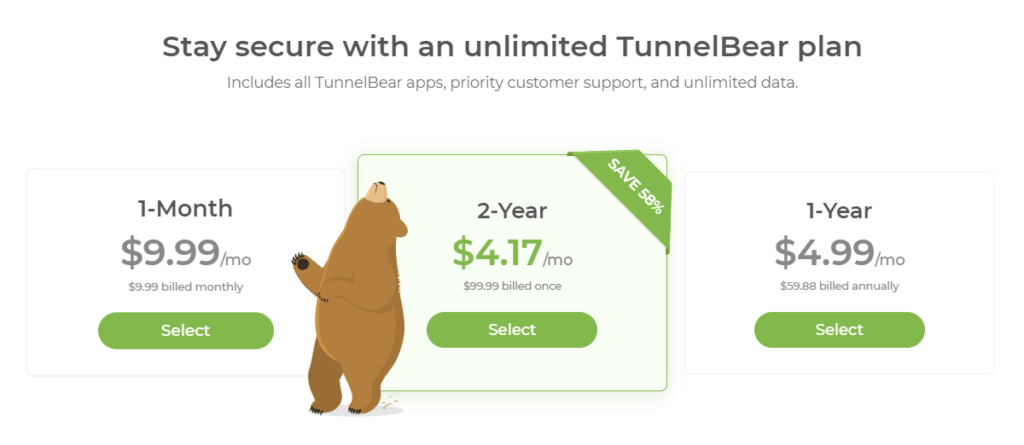 TunnelBear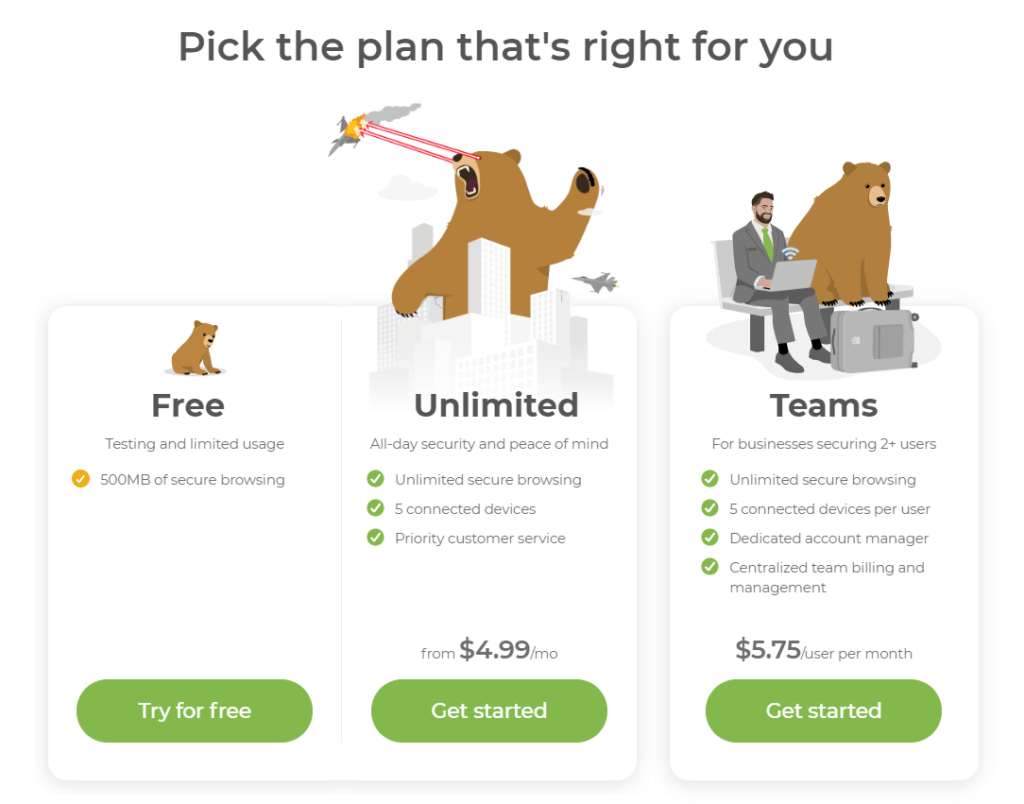 How to Pay for Subscriptions
TunnelBear allows you to use the credit card or bitcoin for the payments. The company supports the credit cards from MasterCard, Visa and American Express. You can also pay for your subscription by using Bitcoin. The number of payment options for this platform is pretty limited and they should add more payment options such as PayPal, iDEAL and others.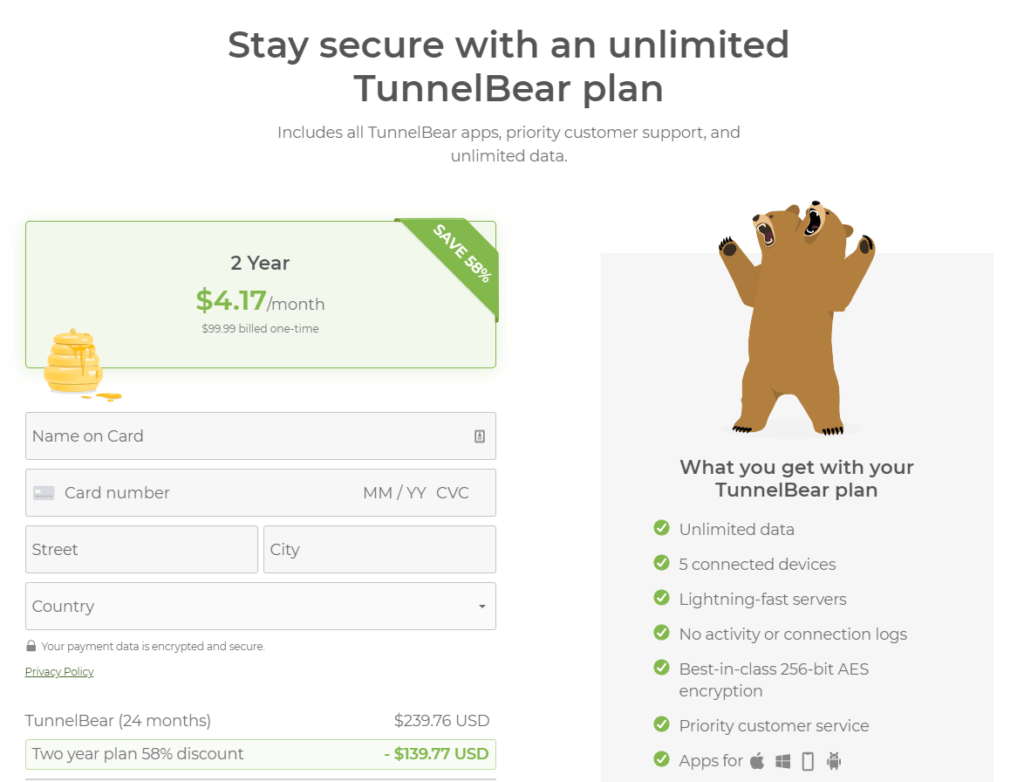 Features Offered
TunnelBear offers tons of great Usenet features to ensure your online protection. These are some of the best features offered by TunnelBear.
AES 256-bit Encryption
TunnelBear uses the Advanced Encryption Standard for all of its communication between the servers and your device. The company uses the AES 256-bit Encryption for its communication and the same standard is used by the militaries and government organizations around the world. This encryption is so powerful that even if someone has the all computational power of this universe and he uses the brute force attack, even then he would need billions of years to break it. Moreover, the company also uses technologies such as Handshake encryption and Data Authentication algorithms to ensure that your data is safe.
VigilantBear
VigilantBear is the fancy name of the Kill Switch which is one of the most useful features of any VPN service. This feature constantly monitors the connection between your device and the VPN servers. It automatically blocks the internet connection as soon as it detects the drop in connection. This feature protects you from accidentally revealing your identity to the third party sever.
GhostBear
GhostBear is another very useful method that makes your traffic look normal and it is useful for hiding your traffic from ISPs and other tracking entities. In this feature, GhostBear divides the data into various chunks which makes it difficult for the ISPs to track your traffic. However, it also results in slower connection speed.
Auto Tunnel
Auto Tunnel is a very useful feature that automatically determines the best server with the lowest ping depending on your location. This feature works well for all platforms and you should enable it if you want the best connection speed. You can use Auto Tunnel feature with GhostBear which can help you minimize the effects of GhostBear technology and provide you with decent connection speed.
No Logging Policy
The company also has a very strict privacy policy and they do not log any of your online activity. They do not log any of your data such as IP address, DNS queries etc. You can learn more about privacy policy by visiting the official website.

Customer Support
TunnelBear offers the ticket based customer support and you can only contact the customer support by logging into your account. Their average turnaround time is 48 hours but in our experience, we were getting the response within 2 hours which is pretty good. The company doesn't offer the live chat feature which is disappointing but they do have very comprehensive guides which can help you learn about the service. Overall, the customer support is good but they can surely add the live chat feature to make it better.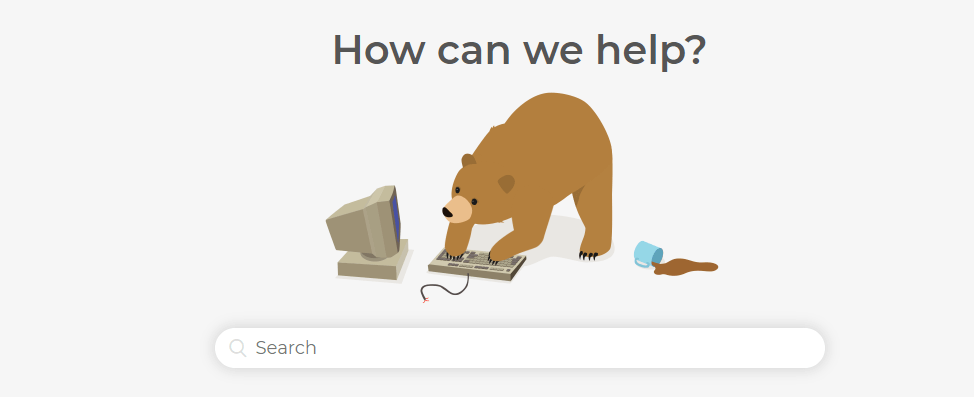 Protocols Offered
The company offers different protocols for various platforms. Here's the breakdown of protocols for different platforms.
Windows users get the OpenVPN and IKEv2. It comes with AES-256-CBC for data encryption, SHA256 for data authentication and 2048 bit DH group for Data handling.
Android users get the Open VPN. It comes with AES-256-CBC for data encryption, SHA256 for data authentication and 4096 bit DH group for Data handling.
macOS users get the OpenVPN. It comes with AES-256-GCM for data encryption, SHA256 for data authentication and 3072 bit DH group for Data handling.
IOS users get the IPsec and IKEv2. It comes with AES-256-GCM for data encryption, SHA256 for data authentication and 3072 bit DH group for Data handling.
Installation & Interface
The company offers its software/add-ons for the following platforms.
IOS
Android
Mac OS
Windows
Add-ons for Chrome, Firefox, and Opera
The installation of software is pretty easy, you can download the apps from the respective forums and download the software from the official website. Once you install the apps and software, you will need to enter your login credentials and you can start using the service. The UI of these apps and software is also very clean and you can use it without any issues.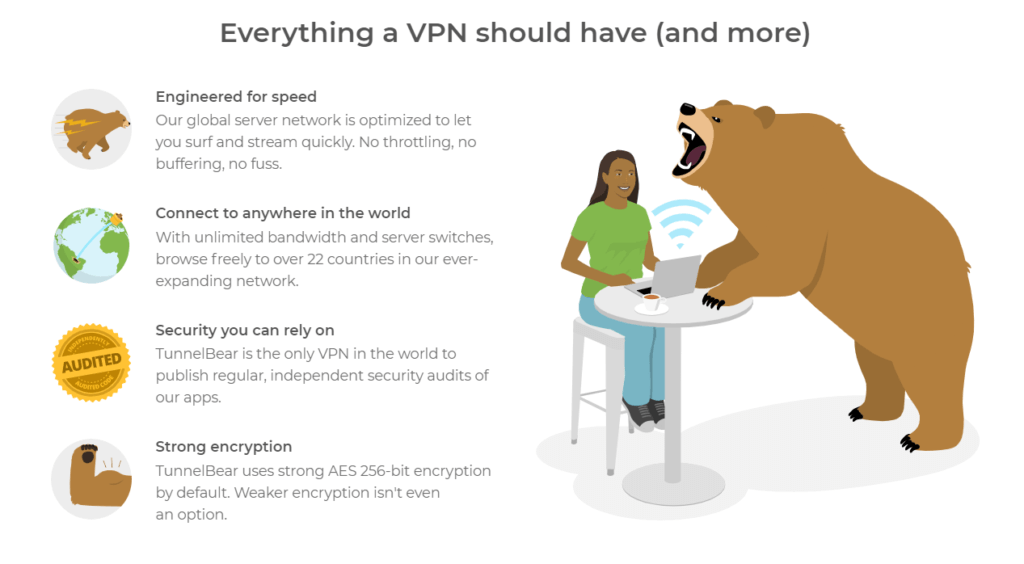 Servers & Locations
TunnelBear has its servers in 23 countries around the world including the USA, Germany, UK, France, Sweden, Spain and other European Countries. The company offers more than 900 servers and you can pick the one according to your choice or you can use the Auto Tunnel feature which will help you pick the best server for you.
TunnelBear only offers 23 countries on its service and if we compare it with the major VPN providers then this number is very low. The NordVPN offers 5437 servers across 59 countries and PureVPN offers 2000 servers across 140 different countries.

Performance
TunnelBear claims to provide the blazing fast speed and we put these claims to test with our 100 Mbps connection. At the start, we tried the service on the UK severs, we were getting the average speed of around 70 Mbps. On European servers, we were getting around 60 Mbps and on US servers, we were getting the average speed of 45 to 50 Mbps.
If we take the average, we were getting the average speed of 60 Mbps which is more than enough for an average user. However, when we compare it with the competition then it is definitely not good and major VPN services such as Nord VPN offer the average speed of 110 Mbps.
Conclusion
TunnelBear is surely a great VPN service. The features such as GhostBear, VigilantBear, and AES 256-bit Encryption are good. However, there is a lot of room for improvement and they can work on improving their average connection speed and customer support by adding live chat. They also need to work on their packages and they should introduce more variety of packages. In our opinion, TunnelBear is great but there are better options available out there that offer great packages for an affordable price. We would recommend you to check the reviews of Best VPN providers on our website and then make an informed decision. If you have any questions, please let us know in the comment section below!