UsenetStorm
UsenetStorm


UsenetStorm is a Usenet service provider that has been around for a long time. Over time, it has changed both its appearance and much of the underlying functionality. The website started out as Alt Binaries and was quite different from what it currently is. It used to be a unique way to access Usenet as you could use an entirely web-based newsreader and binaries search to download straight from the browser. Now, although it has changed, the provider aims to offer reliable Usenet access to its customers.
Pricing Packages
UsenetStorm provides three different kinds of packages for its potential users. The 'Starter' package is meant for light users and provides access to 20GB of bandwidth each month. This package costs about 4.25$ per month. The 'Standard' membership tier will cost you 8.95$ a month but provide you with 50GB of access. For users that have heavy loads, the 'Unlimited' package allows you a limitless bandwidth and speed for 12.95$ each month. Though these prices are not bad by any means, the unlimited version can be considered a bit more expensive than some of its competitors.  Payment can be performed through credit cards only, which means that you only have limited options. As many Usenet customers are concerned with their privacy, credit cards may not be their preferred method.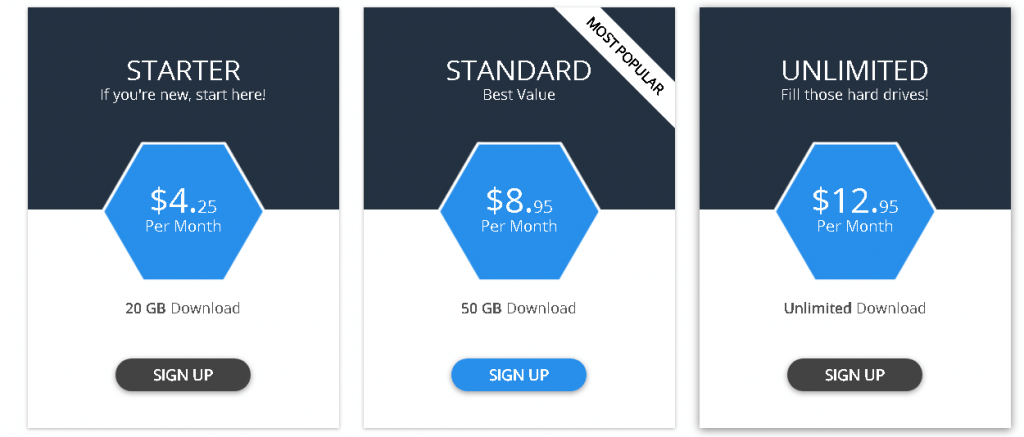 Free Trial
UsenetStorm
UsenetStorm does not provide any free trial. This is unfortunate as you can't test the service before and if you find that you dislike the service, you may have to waste a whole month's worth of Usenet access. So, unless you're confident about UsenetStorm or have previously used the Alt Binaries service, be careful with the purchase. Previously, 500MB of free downloads were offered but this is no longer available.
Retention and Completion
UsenetStorm provides a retention period of about 4 years. This is certainly a decent time frame and you won't have trouble finding most files, but there are many providers who now provide much greater retention times. UsenetServer for example, provides more than double this amount. Still, unless the file is particularly obscure, it will not matter much. UsenetStorm supports over 100,000+ different newsgroups which cover topics from a wide range of topics. The completion rate is great at 99.9% and this means that if the file is available, you will likely able to download without any problem.
Connections and Speed
UsenetStorm provides a reliable and fast service by through its robust network of servers across the world. The service maintains its servers in both the United States as well as across Europe. The service provider allows up to 50 connections although this will be overkill for most users. The maximum number of connections is determined by the package you select. The connection speed has been tested up to 1.8Gbps and this will be more than enough for a majority of users. This is blazing fast but if you have a connection that is even better than this, you may have to look elsewhere. The service has support for encrypting connections through 256-bit SSL.
Features and Search Clients
UsenetStorm aims to provide a simplified user experience. It aims to provide anything you need to get started with Usenet. This means that a newsreader is included, which also allows searching through Usenet. Previously, as Alt Binaries, they used to provide an online web-based downloader. This would allow you to download files straight through your browser without having to deal with NZB files or newsreaders. Unfortunately, this service seems to no longer be available, as it was a great way to quickly download something you're looking for.
The Usenet provider maintains a strict policy against logging user information. You might be wondering whether you can trust UsenetStorm with your information. UsenetStorm has been around a long time and they have no incentive to lie about their anti-logging policy. This is especially true following legislation where logging without informing users would be a major infraction. The SSL support also allows encrypting your connection. This will help avert the eyes of prying organizations or ISPs that could have access to your browsing records. So, UsenetStorm is great for your privacy.
The service provider also claims to offer uncensored access to users. This means that no newsgroups or content is filtered out. For those who hate anyone telling them what they can access, this is a great feature.
UsenetStorm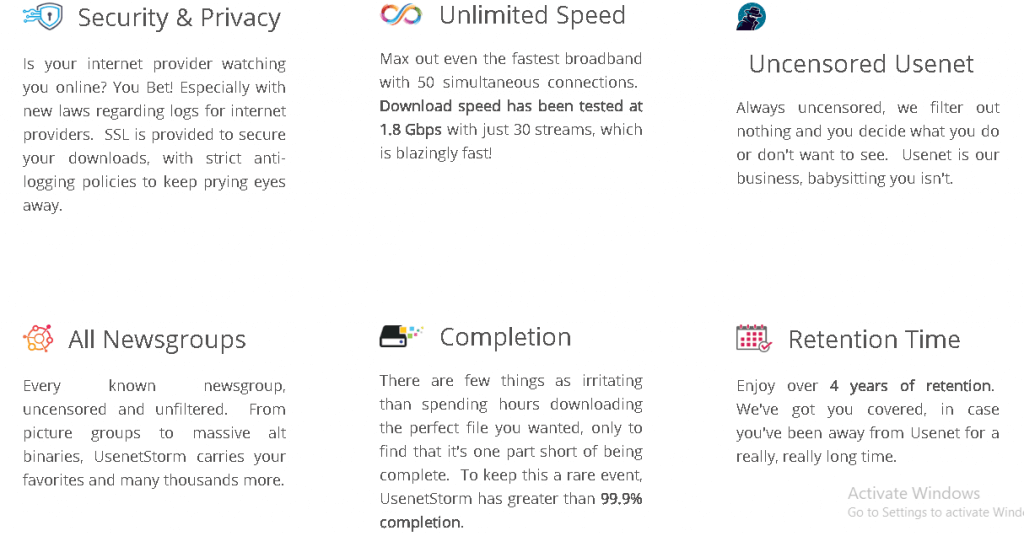 Do they have their own newsreader?
Although they have not developed their own Usenet newsreader, UsenetStorm provides its customers with a great alternative. Previously, the web interface worked as a newsreader for downloading binaries. Now, however, a full retail version of Newsbin is provided with by the service for free.
Newsbin Pro is a fully featured newsreader with lots of great additional features. UsenetStorm users can get it for free as long as they are subscribed to the provider. You can even use it for other Usenet providers and have full flexibility. Normally, this would be worth around 30$, so you are getting great value.
A binaries search service is available on Newsbin, but you must subscribe to separately. This service is directly integrated into the program. For 15$ each month, you get a limited number of searches for that month. This amount depends on the length of the subscription you purchase.
The software is easy to use but the interface can be confusing for new users. Users can download NZB files from the reader or just drag and drop other NZB files onto Newsbin to start downloading. It also has download prioritization, multiple server support and built-in RAR handling ability. Newsbin supports SSL encryption to ensure your privacy.
Unfortunately for Mac users, Newsbin Pro is only available on Windows machines. It may be possible to run the application through WINE, but this has its complexities. The software is certainly a great addition and is one of the reasons to consider getting UsenetStorm.
Are they NZB compatible?
UsenetStorm is fully compatible with NZBs. If you obtain an NZB file, you can easily download the associated file through your newsreader with just a single click. This process is simple and easy to use.
Customer Support
UsenetStorm
The UsenetStorm customer support is accessible through email or an online contact support form. They claim to provide top of the line customer service and we did not face any problems in dealing with technical issues that may have cropped up.
Conclusion
UsenetStorm does a lot of things right with the service it provides. Not only is the service extremely reliable, they have great connection speeds. The privacy policy and completion rate are also great. However, there are some significant flaws. There is no free trial and the retention is not as good as its competitors. Similarly, although the price for limited usage packages is fair, the unlimited package has a hefty price premium. This means that you should only consider this service if you have low usage, where a block Usenet package may be more efficient. The provided Newsbin reader is a welcome addition and certainly useful if you decide on UsenetStorm. Overall, they provide decent service but are not able to match up to the value provided by Usenet Service competitors like Easynews . The Best Usenet Service Provider