While Usenet is a great platform for content, it isn't particularly easy for new users to use. For example, finding files for is not a simple task. However, with the help of a good Usenet Search Engine, this problem can be drastically reduced. A great example of one of the newer Usenet Search Engines is UsenetHub. Let's look at what UsenetHub provides and if it is worth your time. You will need a Best Usenet Provider and Usenet.com Review recommends UsenetServer.
What is it?
UsenetHub is an indexing service for Usenet that allows you to browse and search for your desired files and get NZB files that allow you to download them. Like other Usenet Search Engines, it does not have any files hosted on its own servers. This service also adds other features to make browsing Usenet an easier experience. The UsenetHub developers call the service a 'Usenet Browser' rather than a search engine, as this service has more content moderation. This doesn't replace your newsreader or service provider, but is meant to be used alongside them.
Why Do I Need It?
If you have ever had any experience with Usenet, you will know that you can't just find the files you need without any help. This is where a service like UsenetHub comes in. This site allows you to get the NZB files directly. The NZB files can then be used to download the files using an NZB downloader. This means that you don't really need anything other than UsenetHub and your Usenet service provider to get all the files you need from Usenet. With this service all you need is a Usenet provider and you can get started. If you are looking for a Usenet service provider, Usenet.com can help you find the Best Usenet Providers.
UsenetHub-Features and Highlights
The UsenetHub developers claim that they have done a lot of work to add some features that can separate the service from the rest of the crowd. It is developed by four professional programmers who work at different IT companies but have developed UsenetHub as a hobby.
⦁ NZB Creation: Creating an NZB using several parts is a frustrating task. This is why the NZB creation feature of UsenetHub is great. It automatically creates NZB files for you without the need to use any other tools. This can really streamline the Usenet experience for the user while saving a lot of time and effort.
⦁ Retention: Retention is the amount of days for which this service will keep tracking the file. This means that if something was uploaded before the retention date, it won't even appear on the search results. This is why it is considered such an important factor for Usenet search engines. UsenetHub has a relatively lower retention rate at 300 days, as the Best Usenet Search Engine Sites for 2018 can have upwards of 1000 days. While this may be discouraging for some users, the service does have some exciting features which may be able to make up for this.
⦁ Check Download Availability: One of the features of UsenetHub is that it analyzes the downloads before allowing you to get the NZB files. This can filter out any files that have expired or aren't available anymore for any reason. This can save you a lot of trouble as you won't need to check this yourself.
⦁ Content Filtering: Another feature of UsenetHub is that it filters content to remove undesired results, so that the user only gets results they are looking for. Usenet certainly does have a spam problem and if this service works according to its description, it is certainly something that would make UsenetHub stand out amongst the competition.  This makes it simple to search for family-friendly content while browsing Usenet. The content filtering also means that it is safer to use Usenet as the files have a lower chance of having viruses.
⦁ File Preview: The main highlight of this service is the ability to preview videos and images. This can help you filter out any fakes or undesired results. The video previews are thirty seconds long clips that you can use to verify if it is the file you are looking for. Images also have 'screenshots' which allow you to preview the actual files. The website claims that it moderates content to ensure the removal of spam and fakes, but this feature is still very helpful.
⦁ Newsgroups and File Availability: Content on Usenet is usually available through various newsgroups. These sites are the actual hosts. UsenetHub does not have a massive number of affiliated newsgroups and does not publicly reveal the exact details, but it is still a relatively new service and is still growing. New files are being added daily and the content available through the service has increased significantly since its early days.
⦁ Price: Unlike some premium services, UsenetHub is completely free to use. This means that you can try it without spending anything and keep using it if you like it. All you need is a Usenet service provider and you can search for files using UsenetHub. The website also has premium access which allows unlimited traffic and can cost as low as 5$ per month if you get a yearly package.
How to Use UsenetServer Global Search?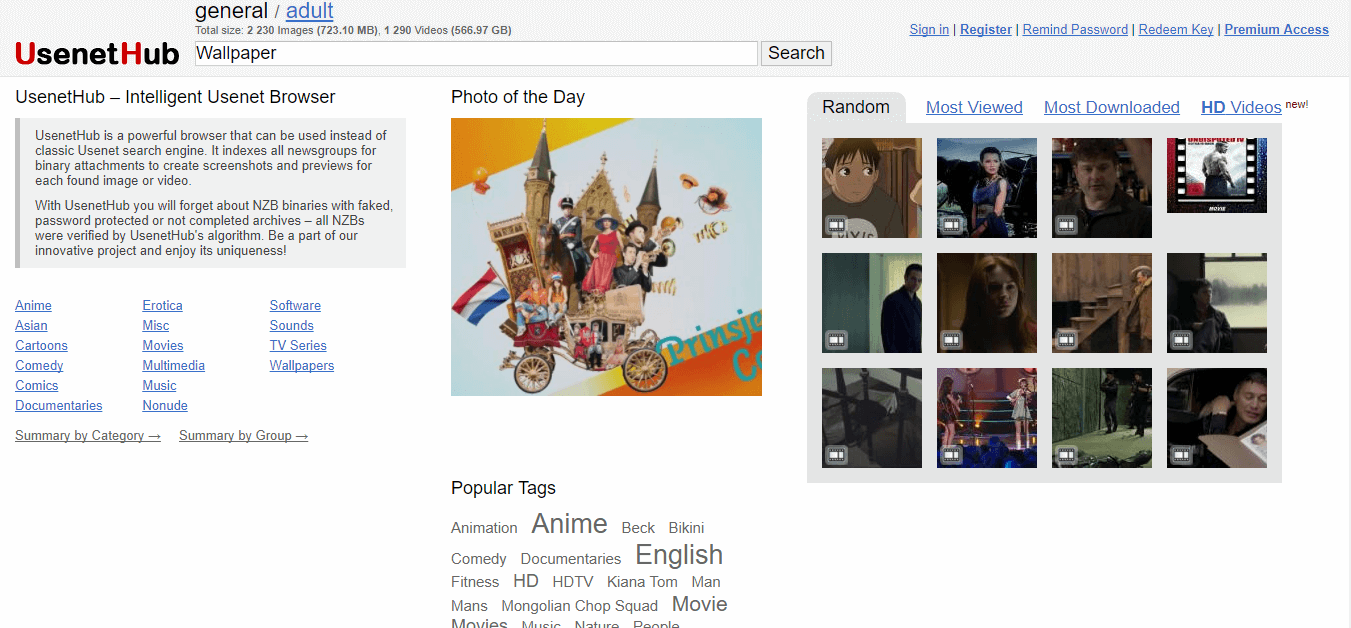 The webpage is quite simple. It has tabs for most viewed and most downloaded. It also has a popular tags category and the search bar, which is quite prominent.
⦁ You can simply search for the files you need by specifying keywords and other fields that can help filter results. You can enter anything that you want to download and press the search button. You can also get an overview or summary of the files in various categories or even various groups. The categories are a handy option that are not usually available in Usenet search engines.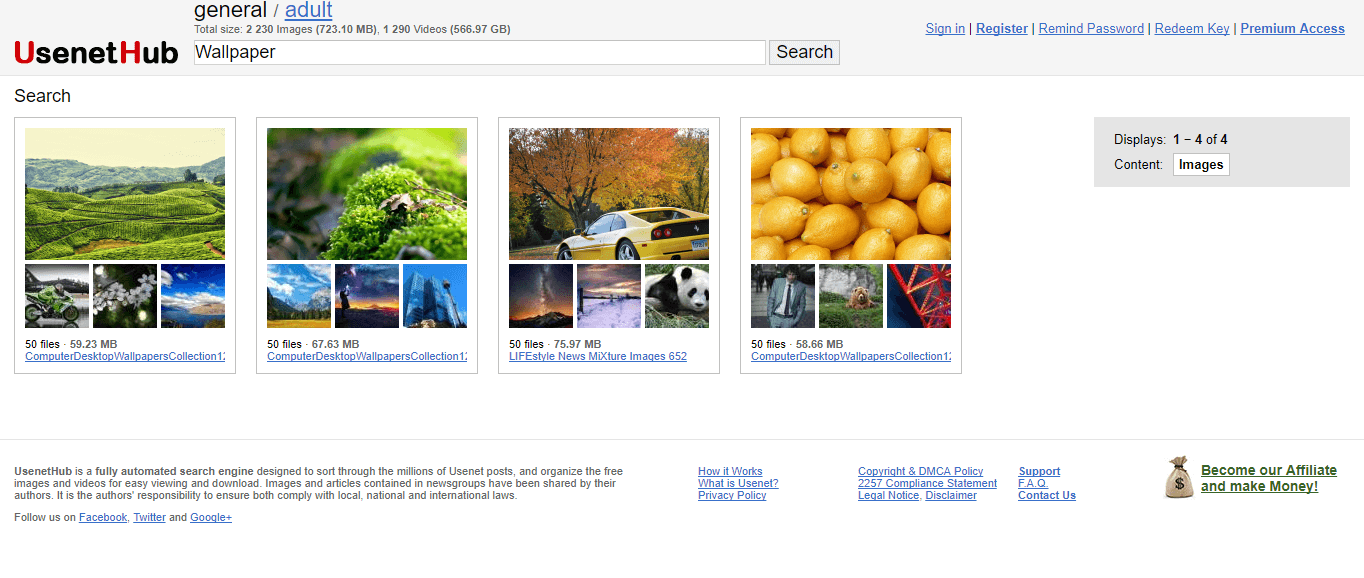 ⦁ For example, I searched for 'wallpaper' and got some wallpaper collections as a result. You can click the result you want to get a preview for them. The page shows previews as well as details such as the file's author and newsgroup the file is from. Once you have decided if you want to download this file, you can use the View NZB button to download the NZB for this download. This NZB file is just a reference to the files on Usenet servers.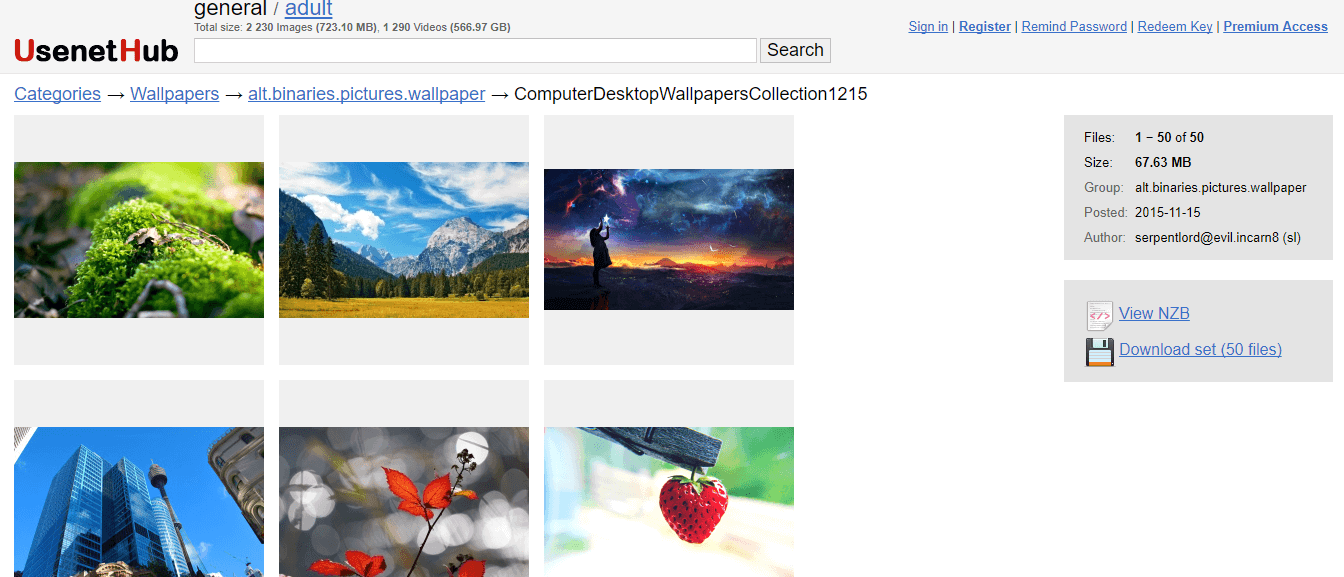 Open the NZB file using a newsreader or NZB downloader. A popular choice for this is SABnzbd. The client will start downloading the files from Usenet servers.
⦁ As soon the download completes, your file will be available in the location you had desired.
UsenetHub vs Other Alternatives
The main alternatives to the UsenetHub search service are UsenetServer Global Search and Binsearch. Let's compare them with UsenetHub.
⦁ Price: Unlike some of the other services like UsenetServer Global search, this service is absolutely free. Binsearch, another popular alternative also comes at no cost. This means that these services have ads and if you are someone who absolutely cannot stand advertisement, it may be better if you get another service. However, despite being free, UsenetHub provides highly reliable services.
⦁ Retention: As previously mentioned, the retention rate for UsenetHub is lower than other similar services. While it has a retention rate of 300 days, even free alternatives like Binsearch can have up to 1098 days. A premium service, such as UsenetServer Global Search, can have retention rate upwards of 3000 days.
⦁ NZB Creation: The best Usenet search engine sites for 2018 usually have an NZB creation feature. UsenetHub has this very convenient feature and so do both UsenetServer Global Search and Binsearch!
For a free service, UsenetHub provides a decent amount of value. It has some killer features and while it does not have as much content as some of the other competing products, the developers are still adding more content daily. This makes it one of the Best Usenet Search Engines for 2018. According to your needs, it may be the perfect service for you. As this is free, it is probably best if you try it out, even if you don't use it in the future. While it may not be the best service yet, it has some very interesting new ideas and is certainly worth keeping an eye on.