Sunny Usenet is an Icelandic Usenet service provider with servers in EU,  known for its affordable packages. The Sunny Usenet provider is available for all people around the world, so you don't need European IP to sign up and use the service. The company offers a decent number of retention period with the good speed at an affordable price.
Sunny Usenet also provide you access to  120,000 newsgroups. The completion rate is 99% which is remarkable. The company is committed to your privacy, and it doesn't share any of your personal data with any third party.They maybe a new Usenet Newsgroups Proivder but they provide a quality service. They are able to achieve this goal because they collaborate closely with three leading Usene Service Providers. This is whats help set Sunny Usenet apart from all other Usenet providers.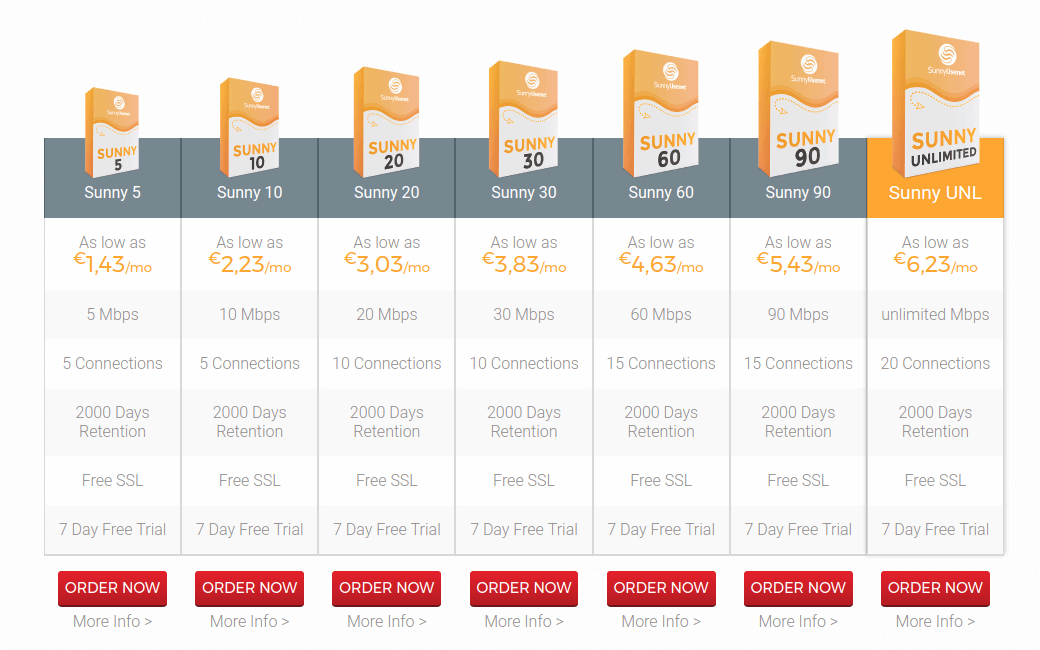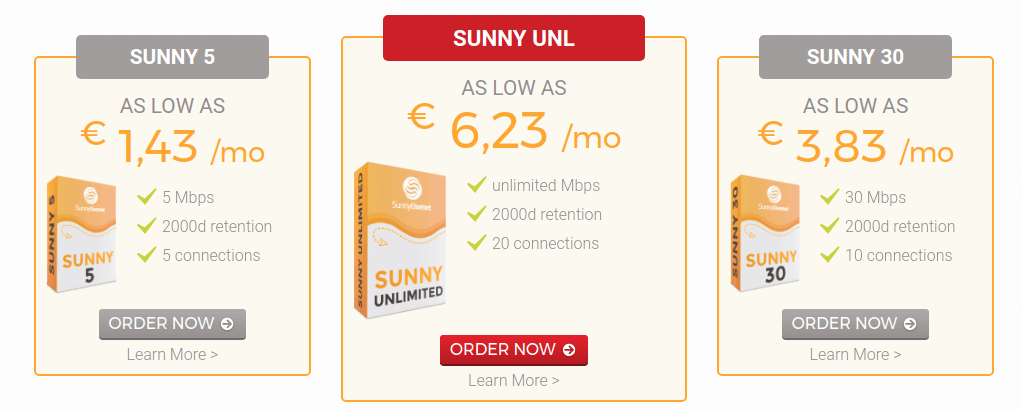 Pricing
Sunny Usenet Offers a wide range of packages for its users. You can find very affordable packages here starting from just 1,43 euros per month. But the low price come with some sacrifices in speed. They boast that their pricing is 20% less then their competitors. They do have everything for everbody. Take a look for yourself.
You can also receive discounts on 3, 6 and 12 Months Subscriptions. Discount is available for all packages.
Free Trial
Sunny Usenet offers the 7 days free trial for its users. You can get the free trial of any package by signing up. Sunny Usenet will charge you for that package after the trial period. So make sure you cancel before your free  7 days ends.
Retention Period & Completion
Sunny Usenet offers the most affordable packages, but you have to make some sacrifices to get affordable packages. The retention period of Sunny Usenet is limited to 2000 days. It's not bad, but still, it's not up to standards which other Usenet Providers offers. Sunny Usenet offers the 99% completion rate.
Speed
The packages offered by the Sunny Usenet are speed limited. So if you have subscribed for the basic packages you will have to go with the limited speed. Which is fine for few people, but for the most of the people, it is irritating. However, unlimited package offers the unlimited connections speed. In our testing, in an unlimited package, the speed was limited to 115-120 Mbps which is good.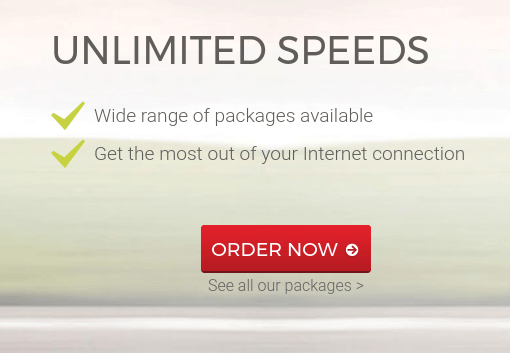 Concurrent Connections
Sunny Usenet offers up to 20 concurrent connections depending on the package you choose. Well for starter packages you won't have to worry about the connections because your account will already be restricted to the speed. So even if you have the high-speed bandwidth you will get only a few Mbps. But for high packages, you can easily max out your bandwidth with few connections.
Search Clients
Unfortunately, Sunny Usenet doesn't have its own Search Client, but it supports all major Newsreaders. However, for your assistance, you can find the configurator in your account settings. Which will provide the instructions for setup for famous Newsreaders like Newsbin Pro, Newsleecher, SABnzbd, Spotnet, Spotgrit, Unison, etc.

VPN
Sunny Usenet also doesn't offer VPN service for its users. However, we will suggest you use the VPN as it will add an extra layer of security.
Privacy Protection
As far as the privacy is a concern, you don't have to worry about it as Sunny Usenet offers the great privacy. The company privacy policy clearly states that they don't keep a log of your online activities. Your personal information will not be shared with anyone. The only thing that company keeps is statistics of your account. The company also give the right to view, review and delete your personal information. The company also accept Bitcoin payment so that you can use this payment method for extra privacy.
The company uses the standard 256 Bit SSL Encryption which will encrypt the data at both your end and server end to ensure your online protections. However, we will recommend you to use the VPN enforce your online protection.
Payment Options
Sunny Usenet support all major Credit Cards, i.e., Visa and MasterCard. You can also use the iDEAL and Paysafecard for payment. Sunny Usenet is one of the few Usenet providers who accept the Bitcoin.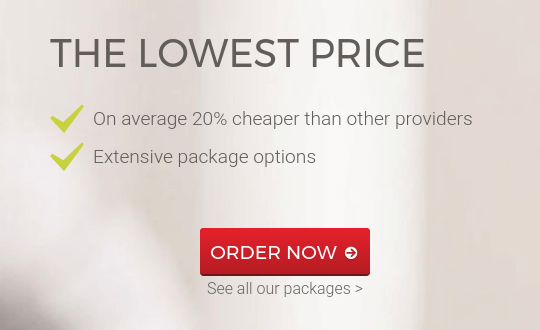 Customer Support
Sunny Usenet has a dedicated FAQ section in the support section of the website which includes the general questions and technical questions.
You can also contact the customer support directly through the email. The support will get back to you within 3-5 business days. The email address is support@sunnyusenet.com.

Conclusion
Sunny Usenet offers one of the most affordable packages with some impressive features. The speed is also good, but you will have to pay some extra to get a proper speed. The completion rate is 99% which is appreciated but the retention period is not that great especially when we compare it to other Best Usenet Providers. The company also doesn't have its own newsreader which is not deal breaker. But still Usenet provider who offers its own Newsreader is always useful unless you want to spend some extra bucks for paid Newsreader. So the deal is to get the affordable package. But you will have to compromise on the speed and retention period. If you are the person isnt' worried about speed, you can go for the Sunny Usenet. But if you are thinking about getting the Unlimited package. We would suggest you check reviews of our Best Usenet Providers as they offer much better deals with more features at the very reasonable price. Sunny Usenet services are good, we are just suggesting check out all your options.