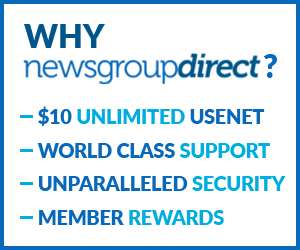 Rating
Pricing
Free Trial

Best Usenet Features

Payment Options
Retention

$7.95 / Month

7 Days

/ 15 GB

Best Price
50 Connections
GhostPath VPN

Credit Cards
Paypal
Worldpay

3,506 Days
Pricing
NewsgroupsDirect pricing is very simple. They offer high speed and unlimited downloads across their plans. You will also be able to use free headers, header compression and a 7day with 15 GB money back guarantee. Another thing to note is that their plans offer free SSL encryption.
Unlimited Monthly $7.95 Plan: NewsgroupDirect's currently offering their High-Speed Plus access to new customers for $7.95 a month. This plans offers unlimited downloads, 50 Connections, SSL Encryption and Ghost Path VPN Access.
Unlimited 6 Months $40 Plan: This plan comes with High-Speed Plus access to new or current customers for $40 a month including unlimited downloads, 50 Connections, SSL Encryption and Ghost Path VPN Access.
Unlimited Yearly $75: This plan is for customers that are interested in the annual plan. It comes with High-Speed Plus access to new and current customers for $75 a year which works out to only $10 a month. Unlimited downloads, 50 Connections, SSL Encryption and Ghost Path VPN Access are also included in this plan.
Newsgroupdirect Payment Options
Unlimited Monthly

Unlimited 6 Months

Unlimited Yearly

$

7.95

$

40

$

75

Unlimited

Unlimited

Unlimited

50 Connections
50 Connections
50 Connections
SSL Encryption
SSL Encryption
SSL Encryption
Ghost Path VPN Access
Ghost Path VPN Access
Ghost Path VPN Access
Payment Options
Their payment  methods includes Visa, MasterCard, American Express, Discover, Worldpay and Paypal payments.
Newsreaders
Usenet Provider NewsgroupsDirect offers Newsleecher for window users and Uniso for mac users. The newsreaders gives you the flexibility to search for news or post from groups you are currently following. This post can as well be downloaded and used later.
Usenet Search Engine
NewsgroupsDirect has an improved Global search feature that enables usenet clients to be able to search the entire retention range for content on the usenet network.
VPN
If you are somebody that likes to surf the internet anonymously, it's good to note that NGD offers VPN services to its customers through their Ghost Path VPN service.
When you connect through their Ghost Path VPn Service, your traffic goes through their VPN services which mask your IP address and hide your data from unwelcomed guest. So, from whatever location you are, either you are connected to hotspot or Wi-Fi, their Ghost Path VPN service can help you a whole lot.
Retention and completion
NewsgroupDirect offers 3,486 days of binary retention and text retention of 3000days which means that you have access to more messages. With this service, you simply don't need to check every day to confirm if your articles has been posted or not
Newsservers
NewsgroupDirect has three servers installed in the United States (Virginia), Europe (Amsterdam, NL) and Frankfurt, DE.
Connections and Speed
NewsgroupDirect uses a speed-optimized UseNet Server to bring Hi-Speed to its customers. Even if you constantly decide to max out on your connections, you will be impressed at the uncapped speed available through them.
Support
NewsgroupsDirect customer Support offers a 24/7 support via email, chat and phone. They simply have some of the best technical support in the industry, so, you can expect fast, knowledgeable and detailed response to questions.

Conclusions
When it comes to the best UseNet provider, NewsgroupDirect is a frontier in this industry simply because they have been around for a long time. Their pricing, retention and speed makes their services the best UseNet provider around the world. Their reliability and UNS global search feature places them ahead of every other Usenet provider in the Industry. For the high-quality and efficient service the offer, we recommend to everyone who enjoys the likes UseNet.