Grabit Newsreader is Best newsreader that is created with the focus of binaries taken into account. Developers at Schemes.com promise that this newsreader will search and browse Usenet articles without the need of downloading headers. With this newsreader, you can select a newsgroup and just go there, check the contents without downloading headers. Usenet.com will provide Grabit Newsreader Review 2019 results for you to review. You. will need a Usenet Service Provider Usenet.com Review choice for you is UsenetServer. UsenetServer was selected as the Best Usenet Service Provider by Usenet.com Review.
It is important to note that Grabit Newsreader is free for PC/Windows. It has premium features required to get articles or news from Usenet with a lot of ease. The software supports SSL encryption and NZBs. Moreover, it automatically extracts and repairs your articles and other good stuff. You will find it quite easy to use; you just create NZB from your favorite search engine and let it do its work. Also, it has an inbuilt search engine.
If you are an old-school Usenet user, you will enjoy header support. This allows you to browse groups manually. It supports backup servers for experienced users that need a secondary server.
Pricing- Account Plans
Grabit Newsreader is free software. However, to enhance your newsreader experience, you need to utilize Grabit Usenet Search. This will increase the search results to over 10K results per a single search. Thus, you are paying for the builtin Usenet Search. The following are the accounts and their pricing:
Grabit Search Only accounts
One month – $2.49 Unlimited Grabit Search
Three months – $6.99 Unlimited Grabit Search
Twelve months – $24.99 Unlimited Grabit Search
Usenet Access Accounts
$3.00 – Get 1GB per month
$5.00 – Get 5GB per month
$12.00 – Get 20 GB per month
With these access accounts you will get:
Unlimited access to Grabit Newsreader search features
99% plus completion rate
Quick access to the Usenet With different servers in US and Europe
Long retention
SLL encryption
50 Simultaneous connections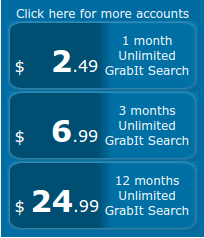 Free Trial
At the time of writing this review, there is no free trial. However, they offer a Quick 3 day access account for $2.50 with the following features:
5 GB data limit
Full access to Usenet for three days
Unlimited searches for three days
One-time payment
Account terminated after three days
Payment Options
Grabit provides only a single payment option which is Paypal. This makes it a secure option as you do not provide them with your credit card information. When using Paypal, you will be given two options:
PayPal Subscription – In this case, the payment is renewed automatically
PayPal Single payment – This option does not renew itself automatically (thus, there is no credit card required).
Features And Usability
It is possible to use Grabit Newsreader as a regular Usenet downloader. You just double click your NZB within Windows, and it will open it automatically and then will be asked to confirm. Grabit Newsreader will get the articles automatically. Also, it can extract them and repair them if necessary. In a few minutes, you will have access to your articles ready.
Automatic processing is quite common nowadays, and Grabit has done an amazing job. You can manually import NZBs from within just by clicking "import." One of the most important features is Grabit Usenet Search. This useful feature allows users to browse various newsgroups just from within. The free version just allows limited results and the retention is low. For paid accounts, you can get up to 10k results per single search.
Another great feature is the ability to decode and download several articles at the same time. For instance, it is possible to download up to 8 articles. you will not be wasting your valuable time as you wait for the binary to decode. The software will do that in the background. Below is a summary of technical features:
Supports SSL
No need of downloading headers
Auto extract and repair
Highly configurable
Can handle multiple downloads
Easy to use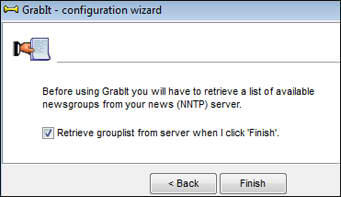 NZB Support
Grabit is well-known for its integrated support for NZB format. You just need to double click on your NZBs, and all articles, which are in the NZB will be automatically downloaded.
Systems Supported
Grabit supports Windows. Hopefully, in the future, they will support other operating systems such as MAC, Linux, and more.
Speed
Nowadays, internet connections have high bandwidth. This explains why Usenet clients and fast computers have a difficult time to cope with a lot of articles. Grabit is not optimized for fast connections. This may be fixed with new versions in the future.
A note about stability
This new version of Grabit Newsreader is stable. In fact, you may not experience crashes when using it. With several free updates released on a regular basis, you will find Grabit to be a stable newsreader.
Tech Support
As much as the software is very easy to use, you may occasionally need technical support. They have provided detailed guides to common issues that users encounter. You can also contact them by submitting a ticket to their support. Their technical support team will get in touch with you immediately.
Security/Anonymity
You are guaranteed SSL secure connection. The ability to encrypt your traffic to Usenet servers with the industry standard SSL technology makes Grabit one of the top newsreaders.
Usenet Providers
Grabit Newsreader works with several Usenet Providers. You can check to see whether they support your favorite Usenet provider.
Conclusion
Grabit Newsreader offers a revolutionary way of getting articles from Usenet. Other than downloading several headers, the software gives you an ability to just browse the articles without the need of downloading headers.
Grabit Newsreader is a free newsgroup reader with a paid search feature. This means that it is not a must to use the search feature. You can import NZBs from other sources with ease thanks to this amazing software. It also allows users to configure various accounts.
You will find Grabit to be a capable newsreader that is great for all Usenet users from beginners to experienced users. It is a simple-to-use interface. The fact that over 90% of users find it exceptional is a great reason to for this low-cost software. Since it is completely free, you have an opportunity to have a look at it before you spend your hard-earned money.