EasyNews.com Review
Easynews  has provided high quality Usenet service since 1995 and has the most comprehensive, all-in-one Usenet package on the market.  It includes fast and reliable Usenet access plus a web-based Usenet interface to search Usenet and download articles from any device without the need for any software or NZB files. The following is our Easynews Review. Also be sure to watch our Why Easynews offers the Best Newsgroups Web Base Browser. It is all about Easynews 3.0
Their interface can be accessed by logging into your account. It is mobile-friendly and has the best advance search results of any NZB indexer or Usenet search engine. Search results include previews so you can verify that a file is exactly what you are looking for before downloading it. There is also an option to access the file inside your browser instead of downloading it – a great feature when accessing the service from mobile devices and/or computers with limited storage capacity.
If you prefer to use a third-party newsreader like SABNZBD or NZBGet, Easynews includes unlimited NNTP Usenet service with multiple US and EU servers, 60 connections, free SSL encryption and some of the best binary retention and text retention available on the market. If you configure your Usenet Clients access in this manner, we would still recommend trying Easynew Usenet search as it will likely provide better results than you would normally find.
Easynews Pricing
They offer 2 special lifetime discount plans for Usenet.com visitors. Both options include a free Zero-log VPN plus one-week free trial with 50GB of high-speed Usenet access.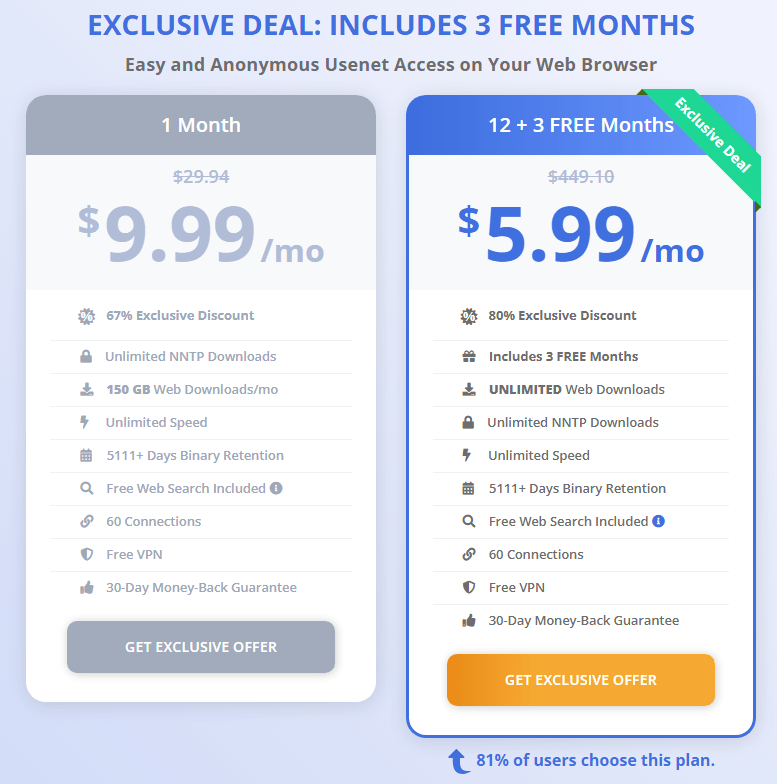 Free Trial
A free 7 day trial with 50 GB of high-speed downloads with either plan. This allows you to test the their web interface as well as the NNTP Usenet access beforehand. Should you decide to stay on with the service, you will have a 75% discount automatically applied to your account if you signed up for your Easynews free trial through Usenet.com. 
Retention and Completion
  days of retention and growing daily on all binary and text newgroups. No other Usenet provider has more. In fact, they have one of the largest databases of Usenet articles and compared to providers with lower retention rates, you will have access to hundreds of BILLIONS of more articles and better search results. 
Connections and Speed
Their web interface instantly returns search results with file previews and the download speeds are also fast with the Easyboost web accelerator, which uses TCP congestion control algorithms, proprietary software and purpose-built servers to optimize speeds. 
Access Usenet from Anywhere
Most Usenet services are limited to desktop. They are unique because it provides access to newsgroups from anywhere with any device, including any mobile device, that has a web browser. As noted earlier, the service is fast, secure and simple to use — just log into your Easynews account to search for articles posted to Usenet and get instant search results with file integrated file previews. When you find the file you want, you have the option to download that file or access the file inside your browser with no download required. 
Free VPN Access
Both discounted plans available through Usenet.com include a free zero-log VPN account with free Windows and Mac software that is fast and easy to use. You get unlimited access, including unlimited bandwidth and unlimited server switching every month. 
Additional Features
Easynews

provides header compression on their NNTP news servers and newsgroups. This provides download speeds up to a hundred times faster than downloads without compression.

Downloading of multi-part posts is simple thanks to the Easy Assembler feature. The Easy Assembler will automatically do all the work for you from any web browser.

They

reward customer loyalty. They offer Refer a Friend and Customer Loyalty rewards. Receive free months or Triple Gigs for every friend you refer plus get additional gigs every year on your Easynews account anniversary date.
Support
They have  a Support Center specially dedicated for customer support. You can find the news server address and port numbers, FAQs, a query search bar and other general information there. Personal support is available 24/7 through email, which is also listed in their Support Center.
Conclusion
Our Easynews review shows you what  a tremendous job of creating a premium all-in-one Usenet service and offers what we believe to be the best 'access-from-anywhere' service on the market with their web based Usenet interface. Their interface also provides the best Usenet search experience, which saves the hassle of using multiple NZB indexers and Usenet search tools. Whether you are an expert or a beginner, Easynews makes it easy and affordable and is our top recommendation if you're looking for an easy and complete Usenet solution.
Now that you have completed our Easynews Review check out our Best Usenet Service Providers