EasyNews.com Review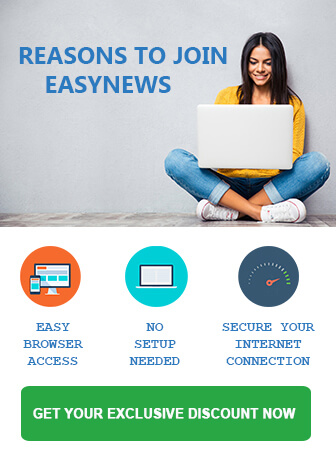 FEATURES
UNLIMITED USENET
ACCESS ON ALL DEVICES
FAST, EASY, SECURE
FREE VPN ACCESS
50 GB FREE TRIAL
Rating
Pricing
Features
Payment Options
Retention
$9.99/mo

Unlimited NNTP Access
VPN ACCESS
3,750 Rollover Gigs
Easynews has been a Usenet Service Provider since 1995 and offers both NNTP and Web-based Usenet services, which is rare in the market. First and foremost, what really sets them apart from other Usenet providers is their easy yet very powerful web interface that allows you to access Usenet from any device without the need of any software. Just pull up your web browser on any device and log into your account at Easynews.com to access their web-based newsreader.
The Easynews newsreader is mobile-friendly, secure, and fast. It also allows you to search for anything available on Usenet with fast search result previews so you can validate a file is exactly what you want before you decide to pull it from Usenet.
For those who prefer to use their own newsreader, Easynews offers a very cheap NNTP package that gives you unlimited downloads, 60 connections, free SSL and some of the best retention anywhere for just $9.95/month. This also comes with a 2 week free trial to their web interface if you are interested in checking it out (recommended).
They offer Roll-Over gigs. This means any GB you don't use in a month are rolled over to the next month. Any unused gigs in any months continue to follow over to following months and never expire. Easynews additionally offers header compression, unlimited speeds, some of the best retention on the market, loyalty Gigs (which are free GB given to you for every year of continued subscription) as well as a zero-log VPN included for free with the Big Gig plan.
RATING
PRICING$9.99/MO
RETENTION
FEATURES
UNLIMITED USENET
AVAIL ON ALL DEVICES
FAST, EASY, SECURE
FREE VPN ACCESS
50 GB FREE TRIAL
Easynews Pricing
Easynews offers four different plans to choose from. Three plans offer block accounts.
Classic Plan: Gives you 20GB/month and 1 GB of loyalty gigs. You can customize this plan with additional web retention or add unlimited NNTP. 14 day Free trial with 50 GB of downloads included.
Plus Plan: Gives you double the amount of data usage per month as compared to the Classic Plan. The amount of loyalty gigs is also doubled at 2 GB. It offers the same customization addition that the Classic Plan offers. 14 day Free trial with 50 GB of downloads included.
Big Gig Plan: Gives you the best value for your money. This plan gives you 150 GB per month, 12 GB of loyalty gigs, unlimited NNTP, and your first 3 months are discounted to $9.99 (a 67% discount). 14 day Free trial with 50 GB of downloads included.
Unlimited NNTP Plan: One of the best values on the market. Get unlimited downloads, 60 connections, 3,406 day retention, free SSL, and 14 days of access to their Easynews Web for only $9.95 per month (lifetime price).
Free Trial
A free 14 day trial with 50 GB of high-speed downloads is included for to new customers of Easynews. This will allow you to test both their web interface as well as the NNTP Usenet access beforehand. Note: Unlimited NNTP Plan doesn't offer a free trial to both, but instead gives you 14 days of free access to their web-interface only.
Retention and Completion
They offer 365 days web retention for their Classic Plan and 525 days for Plus Plan. You can also add-on an additional 3,489 of retention to either plan for only $2.99. Their Big Gig Plan comes with a full 3,820 days web retention. 3,406 days NNTP retention is offered with all their other plans. The completion rate is 99%+, which is fantastic when you consider the NNTP/web Usenet access combination.
Connections and Speed
Easynews NNTP access is amazingly fast. For the web interface, the download speeds are also very fast with the Easyboost web accelerator, a feature that greatly improved the performance of our searches, file previews, and downloads.
Access Usenet from Anywhere
Easynews is quite unique as it gives you fast anywhere access to your favorite newsgroups. You can browse and download securely from wherever you are from literally any device with a web browser. Also noted earlier in our review, the access is fast, secure, and very simple to use. To access Usenet, you just need to log into your Easynews account through their website and you can immediately browse newsgroups and even run a searches for articles anywhere on Usenet, complete with file previews.
Free VPN Access
The Easynews Big Gig plan includes a free zero-log VPN account with free Windows and Mac software. You get unlimited access, including unlimited bandwidth and unlimited server switching every month. You can also add it to any other Easynews plan for only $2.99, which is still a great deal considering that most other VPNs that give you unlimited monthly access tend to run $10 to $13 per month.
Additional Features
Easynews provides header compression on their NNTP news servers and newsgroups. This allows the download speed be to up to a hundred times faster as compared to downloads without compression.
Downloading of multi-part posts is simple thanks to the Easy Assembler feature. Let the Easy Assembler do all the work for you from your favourite web browser, it is as easy as click and save.
Easynews rewards customer loyalty. They offer the Refer a Friend and Customer Loyalty rewards. Receive free months or Triple Gigs for every friend you refer and who becomes a Easynews customer. You can earn Loyalty Gigs just for having an account, receive additional gigs every year on your Easynews account anniversary date.
Support
Easynews has Support Center specially dedicated for customer support. You can find FAQs, a query search bar, and other general information there. You can also access their Support team 24/7  through email, which is also listed in their Support Center.
Conclusion
Easynews has done a tremendous job of creating a Premium Usenet Service and offers what we believe to be the best 'access-from-anywhere' service on the market with their web-based Usenet interface. Whether you are an expert or a beginner, if newsgroups is something that you use every day or not as often Easynews has made it easy and affordable. Choose your Easynews Plan and get started today they guarantee you won't be disappointed.
Check out our Best Usenet Service Providers