Cheapnews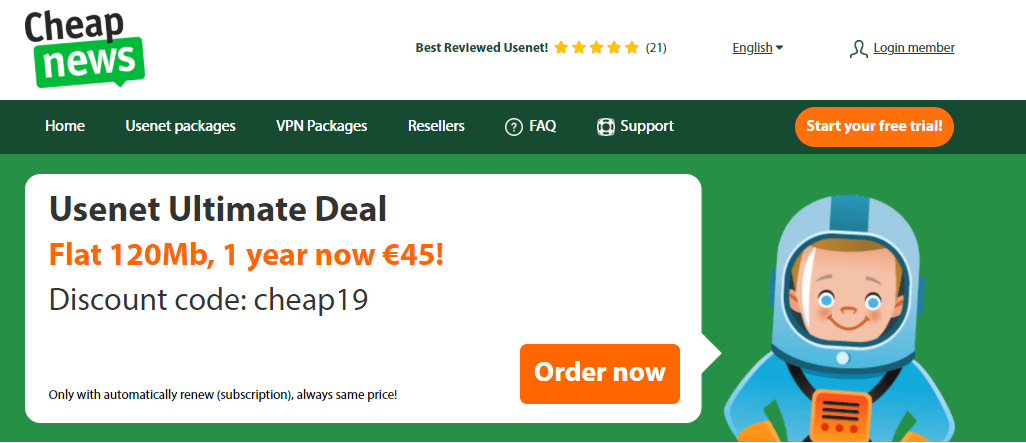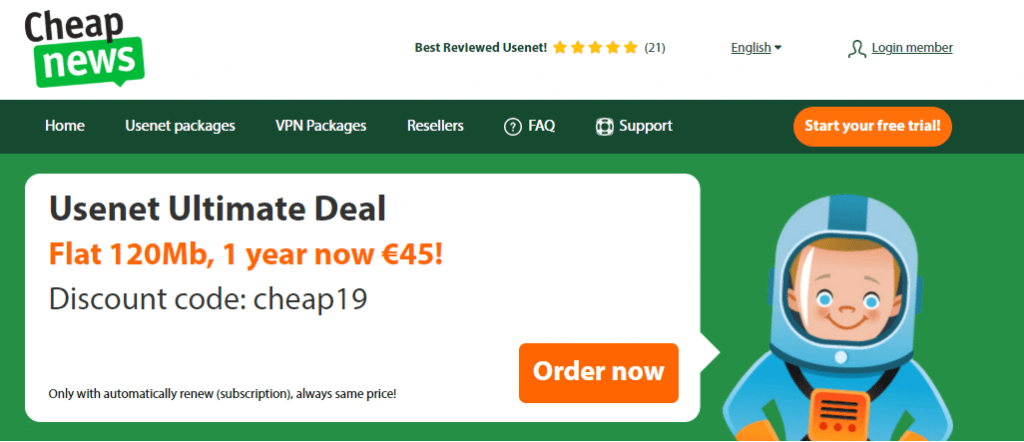 Cheapnews is a veteran Usenet service provider that has been offering service since before 2009. They have built their platform and user base on providing dependable access to Usenet newsgroups. The service also has an optional VPN and provides many great features.
Pricing Packages
Cheapnews provides both block and monthly packages. There is a wide variety of packages available for users. This allows for a lot of flexibility, but it may be confusing at a first glance. If you look around for deals, there are some available on their website homepage, so be sure to check it out for the latest offers.
There are six different versions of the monthly package. They all come with unlimited download bandwidth, but the difference is in the bandwidth instead. For the 'Basic' 20Mbps package, you'll have to pay 3.5$ each month. For users who have slightly greater needs, the 'Premium' and 'Ultimate' packages provide 60 and 120Mbps, respectively.  Advanced users may want to look at the 'Stellar', 'Legacy' and 'Legend' packages. Stellar gives you 160Mbps for 8.75$ per month and Legacy offers 250Mbps for 9.25 each month. The Legend package is truly unlimited speed for 9.75$ each month.
Similarly, block packages also come in six varieties. For block packages, you are provided with unlimited speed and up to 24 concurrent connections. For 50GB of Usenet access you can get the 'Starter' package 7.95$. This is great for people who only plan to use the service sporadically. This includes, as the name suggests, people just getting started with Usenet. Block accounts are useful for backup Usenet providers to fill completion gaps from your main provider. If you have greater usage you should consider the 'Small' or 'Standard' packages.  The 'Medium' package will give you 500GB of access for 34.95$ up front. For heavy users, the 'Large' package provides 1000GB while the 'Pro' package has 2000GB. These packages cost 64.95$ and 119.95$ respectively.
There are multiple payment methods available. You can use the Dutch bank IDEAL if you are in Europe or a PaySafeCard if you're an international user. Cheapnews aims to provide further options including cryptocurrency which will be a welcome addition for privacy conscious individuals.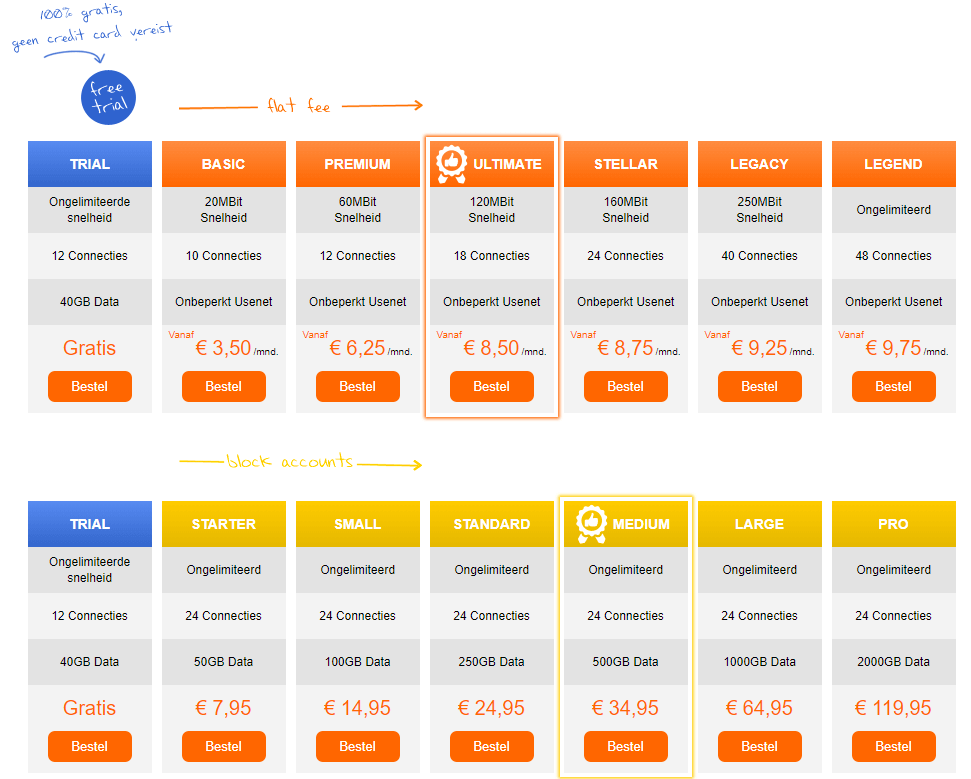 Free Trial
If you want to test out the newsgroup access provided by Cheapnews, you can use the free trial to get up to seven days of free access. The trail works for up to the first 40GB or seven days, whichever comes first. This is enough for anyone to thoroughly appraise the service. The free trial comes with unlimited speed and up to 12 simultaneous connections.
Retention and Completion
Cheapnews provides access to thousands of Usenet newsgroups. It aims to give unfiltered access to Usenet binary newsgroups without any form of censorship. They have a 99% completion of these newsgroups. The 1300-day retention is not fantastic, but most users will still have no trouble finding the Usenet binaries they are looking for.
Connections and Speed
While the Cheapnews servers are based in Europe, they are connected to the main internet hubs across the world. This means that you should get great service regardless of where you live. They provide a fast network that will be able to max out most users' connections. Depending on the package selected, you can use anywhere from 10 to 48 simultaneous connections to Cheapnews' Usenet servers.
Features and Search Clients
Aside from speed, Cheapnews main selling point is its reliability. The Usenet provider has been a mainstay in the market and has consistently provided top quality service to its users. The servers that provide newsgroup access are hardly ever down, meaning that you won't be inconvenienced.
Another great thing about Cheapnews is that it is absolutely dedicated to privacy. The company provides full SSL support, as well as an optional VPN. 256-bit SSL encryption can make it hard for third-party actors to see exactly what you are doing and so is an absolute necessity for privacy. Although they do keep logs, they promise to never disclose them to any third party. This may be a problem in the case of a data breach, however.
The flexibility and ease of use are also essential parts of the Cheapnews experience. If you ever feel like your needs would be better met through a different package, you can easily switch to the one you want. This is done using the control panel, which also gives you many other customizable options to play around with. Check out UsenetServer Global Usenet Search
Do they have a VPN?
Cheapnews has a VPN service that is available for its users. There is an additional monthly cost but Cheapnews users get a significant discount. The service costs 8.25$ per month but subscribers can get it for 5.5$. The VPN supports all the major protocols and technologies. This includes PPTP, L2TP and OpenVPN. There are client applications available for most of the main platforms. These are available for Mac, Windows, iOS, Android and more. There are no bandwidth or speed limitations, so you will not face any barriers with regards to that. The service is very simple to use and can be installed with just a single click of the button.
VPNs are a great way to protect your privacy and prevent any of your precious data leaking. They can also be used to bypass censorship filters that may be imposed upon you. Cheapnews VPN has servers across the world to enable great speeds and multiple options available for its users. If you are having troubles with this VPN, there is separate support available for it.

NZB Support
The Usenet service comes with full NZB support. This allows you to download Usenet binaries by simply using a search service to download an NZB file and open it using your newsreader.
News Servers / Ports / Configuration
News server address:
– Block and trial accounrts – block.cheapnews.eu
– Flatrate accounrts – news.cheapnews.eu
Customer Support
Cheapnews offers full time 24/7 support to all its customer facing technical issues. To contact them, just use the online form to create a new support ticket or check in on any of your previous ones. Customer support will not only help you solve technical issues, they can also suggest which package you should get and advise you on which products suit you best.
Conclusion
Overall, Cheapnews provides a great overall service. The robust Usenet server access is combined with a no frills and easy to use experience. This means that Cheapnews is a great service provider to get started with. A block account may also be very useful to you if you might need Usenet newsgroup access on rare occasions but not regularly enough for a monthly subscription. However, despite the name, many of the packages are comparatively expensive compared to many competitors. Additionally, the retention period is quite low and there are not many additional features available for users. Depending on your exact needs, it may be best to look elsewhere to find a better deal.  Best Usenet Service Providers