Binload
Binload service is closed
Features
Binload  beginnings started as a beta .  Binload beta testers received free Usenet access to test the service along with their newsreader.  The beta testing period lasted for a long time.  With lots of members enjoying free access.  They then moved out of beta and ended the free accounts.  Those wanting to use their premium service had to pay $7.99 a month.
They had a lot of beta testers enjoying the free access.  While I'm sure they'd still like the service to be free it's hard to complain about a year and a half of free beta testing.  The key for Binload might be keeping up with the large providers in terms of features, retention, speed and reliability.  Time will tell how well they perform as a premium service.
At $7.99 a month they are was a reasonable price but many other Usenet providers provide a better deal.  We choose Newshosting for $8.33 a month.  Given their higher retention, better performance and Usenet client features.  Binload was a premium service you might want to compare all your options.  Best Usenet Service Providers are offering free Usenet clients, web interfaces, online storage, VPN access and more.
Service details:
– Server farms: Europe
– SSL Encryption: 256-bit SSL
NewsReader
They offer a  News Reader.
Pricing
Plan types:
– unlimited usenet
Account pricing:
– Unlimited – $7.99 a month
Free Trial
– Binload offers a 14 day free trial.
Payment Options
– Credit card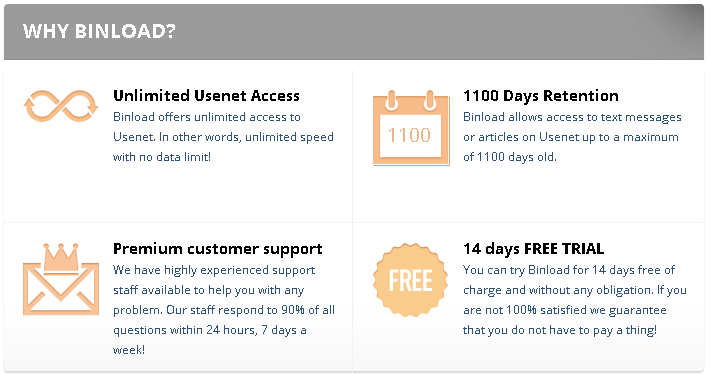 Retention and Completion
– Binary retention: 1,100 days
– Text retention: 1,100 days
– Completion rate: 99%+
Connections and Speed
– Number of Newsgroups: 85,000
– Simultaneous Connections: 20
News Servers / Ports / Configuration
Servers:
– news.binload.com
– SSL encrypted ports: 563
– Standard ports: 119
Support
– Email support
Conclusion
Taking  their business from a  free service to a paid service, the pressure to perform took its tole and they have closed shop. Good news we have researched many Usenet Service Providers and we have come up with some recommendations for you at Best Usenet Service Provider.