Atlantis
Atlantis
AtlantisNews Review

AtlantisNews Review
AtlantisNews  is a US-based company that offers USENET access. Their service is comparable with their competitors. They offer many Usenet Packages you are sure to find one that fits your needs. They have been  Usenet Service Providers for around 15 years, offering Newsgroups Access.
AtlantisNews Features
Service details:
– Binary retention: 21 days
– Text retention: 365 days
– Completion rate: unknown
– Number of Newsgroups: 50,000
– Simultaneous Connections: 8 (4 recommended)
– Server Farms: US
– SSL Encryption: unavailable
AtlantisNews Pricing
Plan Types
– metered Usenet
– block Usenet
Pricing Plans
– 100 GB/mo. – $49.95/mo.
– 50 GB/mo. – $29.95/mo.
– 7 GB/day – $49.95/mo.
– 3 GB/day – $29.95/mo.
– 1.5 GB/day – $19.95/mo.
– 750 MB/day – $14.95/mo.
– 250 MB/day – $9.95/mo.
– 25 GB block – $19.95 (never expires)
AtlantisNews Free Trial
AtlantisNews does not offer any free trial.
Payment Options
Visa and Mastercard
American Express
Discover Card
PayPal, Bank Wire Transfer, Direct eBanking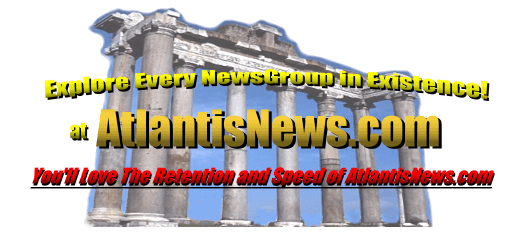 AtlantisNews Retention and Completion
They currently carry between 43,000 and 53,000 Newsgroups. They say that's ALL OF THEM! When others say they have over 100,000 newsgroups… that means they carry about 55,000 to 75,000 that are misspelled, spam-traps, empty, or dead!  They remove misspellings, dead groups, and spam-traps to save you time! We ADD NEW groups anytime you ask!
Over 99.9% completion with the best peers in the industry.
Connections and Speed
They have NO SPEED LIMITS. Download speeds easily average OVER 500k+/second.
Multiply that by 8 CONNECTIONS and MAX OUT YOUR BROADBAND cable or DSL connection!
No Daily Caps!
100% Uncensored and Private!
News Servers / Ports / Configuration
– news.atlantisnews.com
Support
The customer support of Atlantis News claims to be the best, offering 24 hours a day availability, but only through email.  It could take awhile to receive a response for your tech support questions.
Conclusion
Although AtlantisNews represents a decent choice for a Usenet Provider, we are recommending that you look at our Best Usenet Service Providers first or our Usenet special offers page.  We pick EasyNews over AtlantisNews for web access. EasyNews is less expensive, Usenet Provider that  offers more for the money and has a great reputation.