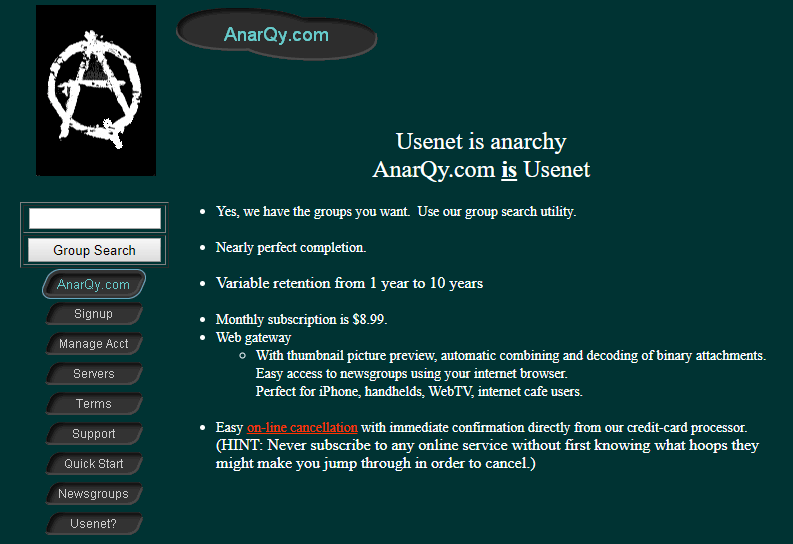 AnarQy
AnarQy
Features
– Number of Newsgroups: 85,000
– Simultaneous Connections: 12 to 20
– Server farms: US and Europe
– SSL Encryption: available on some servers
NewsReader
They don't offer a newsreader but does have recommendations for a News Reader. We recommend you check out UsenetServer and Newshosting they offer a News Reader with their service.
Pricing
Plan types:
– speed limited Usenet
Pricing plans:
– Speed capped 1,200 kbps – $8.99/mo.
– 7 day trial – $2.95
When you have Gigabytes left over at the end of the day, they are carried over- that is definitely a plus.
Free Trial
They don't offer a free trial .  They have a trial that costs $2.95. But if you decide the service is not for you, you will not be refunded the amount you paid.  Instead, there will only be no extra charge should you cancel the subscription before the seventh day.
$2.95 for 7-day trial
No further charge if you cancel on or before 7th day
Otherwise beginning on the 8th day, you will be charged $8.99 per month until cancelled
Payment Options
Payment options:
– Visa, Mastercard, Discover
Easy  online cancelation with immediate confirmation directly from our credit-card processor.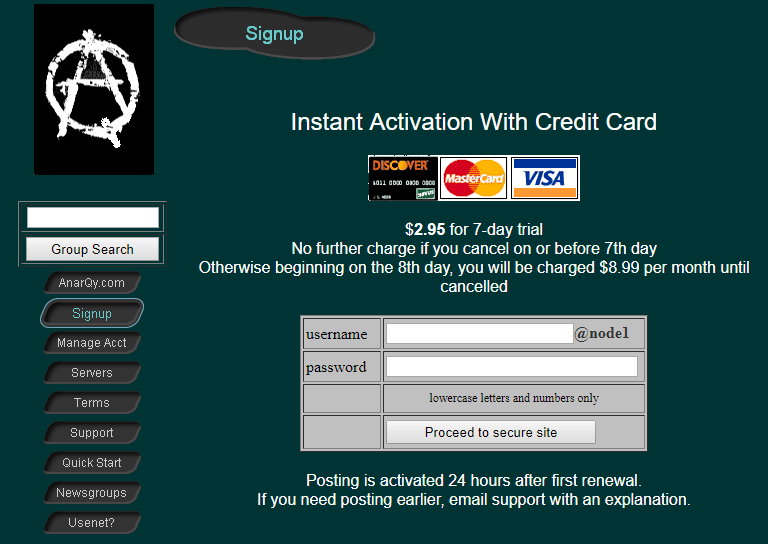 Retention and Completion
Variable retention from 1 year to 10 years
Binary retention: 360 days
Text retention: 360 days
Nearly perfect completion.
Connections and Speed
News Servers / Ports / Configuration
Servers:
– news.anarqy.com (Chicago)
– alt.anarqy.com (Amsterdam)
– east.anarqy.com (Atlanta via Highwinds, no SSL)
– euro.anarqy.com (Amsterdam via Highwinds, no SSL)
– alt.anarchy.com (European access via News-Service)
Support
AnarQy only provides email support.
Support:
– email support: support@anarqy.com
Conclusion
AnarQy is a good service. They do offer servers in the US and Europe but then so do their competitors, they also don't provide their own News Reader. There are other providers like UsenetServer that offer their own VPN, News Reader with Global search. So we recommend shopping around. We have done the research for you. Check our Best Usenet Provider for our recommendations.