Airnews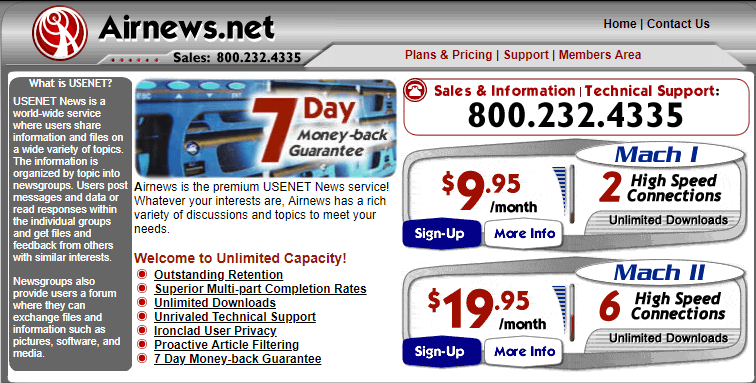 Airnews Review
Airnews is a small-scale Usenet provider that has been around for more than 10 years. The service claims to provide robust privacy and customer support to distinguish itself from its competitors.
Features

Pricing
Plan types:
–speed limited Usenet
There are two packages available for the Airnews Usenet service. Both come equipped with unlimited download bandwidth, which means that you don't have to worry about using up your allocated resources. This is great news if you're a particularly heavy-duty user. The Mach I package provides you with a speed of 1.5Mbps and has up to 2 simultaneous connections. The more expensive Mach II package has the same speed but supports 6 connections at once.
Pricing plans:
–  Mach I (1.5 Mbps, 2 connections) – $9.95/mo.
–  Mach I (1.5 Mbps, 6 connections) – $19.95/mo.
Free Trial
Although they don't have a 'trial'  there is a 7-day money back guarantee present. If you're not satisfied with the performance of the Usenet service's performance, you can just cancel it with no charge.  This means that you're free to try the Airnews out without any cost to you.
Payment Options
The payment can be done through both credit cards and checking accounts.
Retention and Completion
The Usenet service provider provides low text retention but is lacking a bit regarding binary retention. The 240-day binary retention will restrict you a bit with regards to the content you can see. The 2000-day text retention is okay, but it is still less than some of its competitors. If you want older content to be available, you may want to look elsewhere.
Connections and Speed
The 1.5Mbps speed provided by Airnews is certainly not slow but consumer internet connections have been developing rapidly. In many cases, this won't be able to max out many users' internet connections. The service supports a maximum of 6 connections, but they recommend 4 connections for optimal performance.
News Servers / Ports / Configuration
The Airnews Usenet server is located at library.airnews.net
Support
You can contact Airnews through either phone or email. They provide decent customer support and are quick to respond. They claims that it has the best customer support in the US. Support:
–phone support: 800-232-4335
–email support: support@airnews.net
Conclusion
Overall, Airnews does not have many glaring flaws and would do the job for most people. However, it does nothing to stand out amongst the sea of other Usenet providers. You should consider Airnews, but you may be able to find a better deal if you look around.
As for the USENET access, many USENET providers—most of them listed on Best Usenet Service Providers  If you are serious about Usenet try UsenetServer has 3,960 days of retention and growing daily. Also worth a look would be EasyNews with their Easynews browser, Search, preview, and download from anywhere.