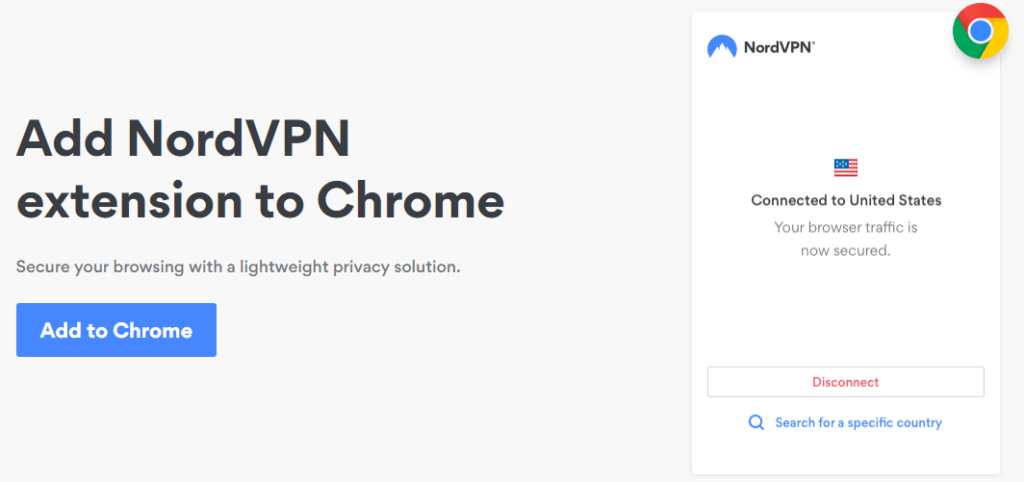 NordVPN Chrome Review: Everything you need to know
NordVPN is one of the most popular and trusted VPN Services out there. It has been around since 2012 and it is known for its reliable VPN Service. If you have been using VPNs for some time then you have probably heard about the NordVPN as it is among the best VPNs in the world. Even if you are new to the VPN world and don't know much about the VPNs, you can read our VPN guide where we have shared everything you need to know about the VPNs. In this comprehensive guide, we will discuss the Chrome Extension of NordVPN. You will learn how to use it and everything else which you need to know about it. Usenet.com reviews the major VPN Services to ensure that you find the right fit for you. Now, let's get to this review.
What is NordVPN Chrome Extension?
As the name suggests, NordVPN Chrome Extension is the plug-in extension for the Chrome Browser. It allows all the traffic from your Browser to route through the NordVPN Servers and to receive the ultimate privacy.
How NordVPN Chrome Extension is different from Chrome Incognito?
Google Chrome comes with the incognito mode and many people think that their identity is secured when they use the Incognito Mode. However, in reality, it just doesn't record the Browsing history, everything else is very similar to the conventional browser.
Even when you are using the incognito mode, the websites you are visiting will be able to know your IP Address and record your online activities. When you use the NordVPN Chrome Extension, you get the temporary IP Address and all the traffic routes through the NordVPN servers and you receive ultimate privacy.
If you want to ensure your online privacy then we would recommend you use a trusted VPN. You can check our complete guide on "How to Choose the Best VPN for you" where we have shared various factors which you should consider when buying a VPN Subscription. NordVPN is our #1 recommended VPN Service because it checks all boxes of a great VPN Service.
What are the Features of the NordVPN Chrome Extension?
NordVPN offers very comprehensive security and that's the reason why it is our #1 recommended VPN. We have discussed the features of NordVPN in our comprehensive review but in this section, we will briefly discuss the various features of NordVPN Chrome Extension.
Ease of Use
NordVPN Chrome Extension is designed to be used very easily and it comes with the "Quick Connect" button which allows your browser to connect with one of the NordVPN Server within just seconds. You also get the choice to manually pick the NordVPN Server of your choice.
Strongest Encryption
NordVPN uses the strongest encryption technologies to encrypt all traffic from your browser. Even if someone is snooping into your connection, they will not be able to see which site you are accessing.
Access to Advanced Features
NordVPN Chrome Extension also comes with the WebRTC Protection which stops your browser from accidentally revealing your IP Address. An IP Address is basically your unique address and one can use it to link all of your online activities with you.
AdBlocker
NordVPN Chrome Extension also comes with the Advanced AdBlocker which blocks the annoying ads and protects you from malware, phishing, and other online potential threats.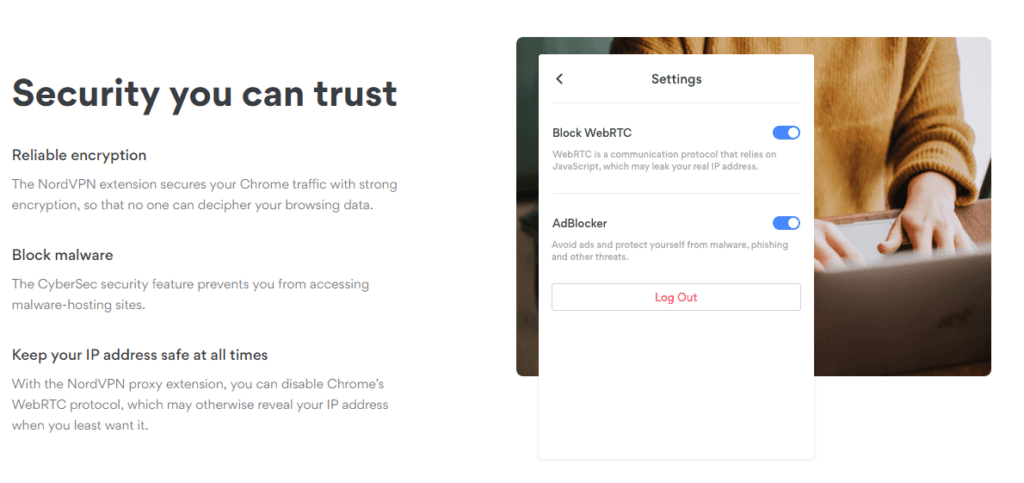 Security you can trust image
• Open your Google Chrome
• Click the "NordVPN" icon and it will show you the small interface.
• You will get the two options: Quick Connect or Search for a specific country.
• Quick Connect allows your browser to instantly connect with the Server.
• "Search for a specific country" allows you to pick the server of your choice and connect with it.
• Pick the option of your choice.
• Now the "NordVPN" icon should turn green which indicates that NordVPN is turned "On".
• You can now start accessing your favorite websites anonymously.
• Also don't forget to turn on the Automatic-Kill Switch, WebRTC Protection & AdBlocker for additional protection.
• That's it.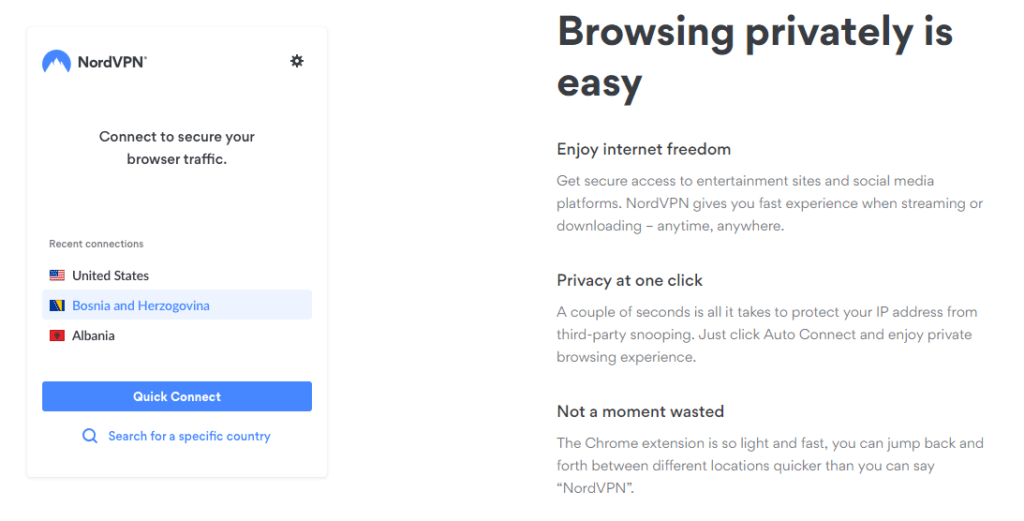 Is NordVPN Chrome Extension safe to use?
NordVPN is a trusted VPN Service and it is used by millions of people around the world. The company uses the state of the art encryption technologies to ensure that your privacy is not being compromised. NordVPN Chrome Extension also uses strong encryption and advanced features to secure your privacy. However, it only encrypts the traffic from your Chrome Browser.
If you want to protect your identity on other browsers or Software then you can download the dedicated NordVPN Apps for that platform. NordVPN offers apps for the following platforms.
• Android
• Windows
• macOS
• iOS – iPhone, iPad
• Android TV
• Linux
• Mozilla Firefox
• Google Chrome
Pros
Following are some of the benefits of using the NordVPN Chrome Extension
• You get the ultimate privacy
• Unrestricted access to more than 5900 Servers
• Access to advanced privacy features
• Anonymous Browsing
• Access to Geographically locked Content on Netflix & other streaming platforms.
Cons
• If you pick the distant Server from your location then you can experience a delay in speed. That's why it is recommended you pick the server which is nearest to your location
• Chrome Extension only encrypts & secures the data from Google Chrome. If you want the overall protection then you should install the system App which will protect traffic from all of your systems including your Browser, other software apps, etc.
Bottom Line
NordVPN is arguably one of the best VPN services out there and it offers access to more than 5900 servers. NordVPN Chrome Extension is also one of the best VPN Extensions we have tested so far, it is lightweight, it is fast and it is fairly easy to use. All you need to enter is your login credentials and you can start using the NordVPN with a single click. Overall, we are satisfied with the NordVPN Chrome Extension and we recommend it to you. We would also recommend you to read the complete review of NordVPN on our website where we have discussed all of its features & pricing. Also, visit our website for more useful VPN reviews & VPN FAQ.