Giganews is one of the oldest and most well-known Usenet Service Providers. Chances are that if you have researched Usenet Service Providers, you have probably come across Giganews' Usenet Packages. Founded in 1994 as a small startup, it has been providing services for more than 20 years and has become a large Usenet Service Provider with multiple data centers across the world.
Giganews has 3 + binary retention and an impressive 15-year text retention period. Giganews, offers higher quality retention compared to their competitors. They offer 100% completion and are able to provide full download speeds for even the oldest articles.



The Usenet Tools that Giganews provides them with a competitive edge over other Usenet Service Providers. The free Usenet browser is great for finding and downloading files. The Giganews accelerator is capable of increasing security and speed of your Usenet connection. It forces your newsreader to use SSL and encrypts all of your commands to ensure maximum security. It also utilizes header compression to significantly speed up header downloads. The most significant addon, however, is the zero log VyprVPN, which is included as a bonus in some of the plans.


Pricing

Giganews plan provides five separate tiers of its Usenet service. The two unlimited tiers, Platinum and Diamond are the most feature packages, VyprVPN is included as a free bonus. The Pearl plan provides 30 days of retention, while the others have over 3 years. The Bronze plan provides a 10GB per month access, while the Silver plan has 50GB. Compared to other competitors, some of which provide unlimited plans for as low as $8, Giganews is certainly more expensive but it makes up for this in uninterrupted high-quality service. You can pay $10.99 for the first month if you opt for the Diamond plan, but after that it will charge the regular $21.99.
Payment Options
You can only pay for Giganews Account through PayPal or a credit card. There is no options to pay using bitcoin or another cryptocurrency.
Free Trial
All of Giganews' packages come with a 14-day free trial option. You can cancel any time before your first billing cycle kicks in. There's no required commitment, so if you aren't satisfied with the service, you can easily cancel. Once you give Giganews a try we know you won't want to cancel because they provide an excellent Usenet Service  You should be aware, however, if you use up either 10GB of data or don't cancel within the trial period, you will be charged for the next month. To prevent spam on its system, trial users cannot post to Usenet groups until they decide to purchase a full subscription.
Newsreader- Mimo Usenet Browser & Search
You need a Usenet browser and Usenet service in order to access Usenet. In order to access Giganews' multi-year retention they provided Mimo a Usenet Browser. Mimo is a multi-platform that was specifically designed for this purpose. Mimo is optimized for faster browsing, searching and downloads and features integrated search and advanced image viewing. It is a java-based browser which works on both Mac and PC. There are two Usenet search engines (Mimo Usenet Search and NZBIndex search) both are integrated with Mimo for free.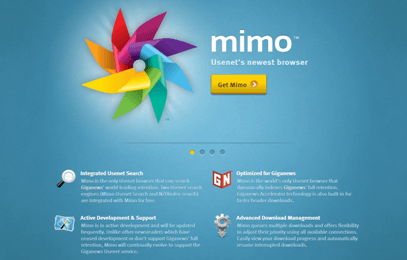 Auto RAR and PAR
Mimo verifies the integrity of your files as you download for increased speed. There is No third party software needed.
Advanced Download Management
Mimo queues multiple downloads and offers flexibility to adjust their priority using all available connections. Easily view your download progress and automatically resume interrupted downloads.
VPN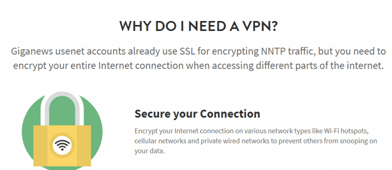 One of Giganews' highlights is the included VyprVPN, which is available as a free add-on for the unlimited plans. The premium VPN service has over 200,000 IPs that cover more than 50 countries. A basic version of the VyprVPN is included with the Platinum plan, which lacks support for OpenVPN and allows only a single connection. VyprVPN Pro is included with the Diamond plan, with a significant number of enhancements. This supports PPTP. L2TP and OpenVPN protocols, as well as tools to help combat VPN blocking. You also have the ability to establish two connections simultaneously. VyprVPN has robust encryption of all your network traffic.
A Personal Encrypted VPN for your entire Internet Connection
Included FREE with Diamond and Platinum Plans
WHY DO I NEED A VPN?
Giganews usenet accounts already use SSL for encrypting NNTP traffic, but you need to encrypt your entire Internet connection when accessing different parts of the internet.
Secure your Connection
Encrypt your Internet connection on various network types like Wi-Fi hotspots, cellular networks and private wired networks to prevent others from snooping on your data.
Protect your Online Privacy
Encrypt your internet connection to prevent your ISP or other organizations from monitoring your online communications and browsing activity.
Access Geo Restricted Content
VyprVPN allows you to replace your physical IP address with one of Golden Frogs IP's from 50+ server locations. Browse content and streaming services as if you were physically in that location.
Improve Online Streaming
Some ISP's can restrict and slowdown your connection depending on what types of sites or content you are accessing. With VyprVPN, your ISP only sees encrypted VyprVPN traffic and not website URL's, videos or downloads.
EASY-TO-USE APPS FOR EVERY DEVICE
VyprVPN apps are fast, easy-to-use and stable with time-saving features like one-click connect, on-tap Usenet server selection and a
Ping test to choose the fastest server
VyprVPN/GOLDEN FROG SECURITY AND PRIVACY
VyprVPN does not use 3rd parties to host their VPN servers and DNS. They write 100% of their software, manage their own network, and they own the DNS. This enables VyprVPN to deliver the fastest and most reliable VPN service. VyprVPN is the only company to handle your data, so your privacy and security are protected from end-to-end.
ENGINEERED VPN PERFORMANCE FOR THE FASTEST VPN SPEEDS
VyprVPN was engineered to have the highest level of speed and security for broadband internet connections. Golden Frog network engineers build and continually manage their global VPN network to provide the fastest VPN speeds across the globe.



Retention and completion
Giganews has an average binary retention at a little over 1000 days. However, it does have an impressive 15-year text retention period. Giganews has highest quality retention which gives you nearly 100% newsgroup completion, as well as multiple copies of articles to safeguard from any server crashes or loss of data.
Newsservers
Giganews provides access to over 110,000 binary and text newsgroups. You are sure to find what you are looking for. You can connect with people on different newsgroups on almost any topic you could think of.
Connections and Speed
One of Giganews' most impressive features are the server farms. With servers all over Europe and North America, Giganews is one of the fastest Usenet service providers and you are sure to find a data center near you. The sheer number of servers ensures reliability, `even if a server is unavailable a backup will always be available. This allows Giganews to ensure 100% uptime while providing great download speeds. In the premium plans, you can have up to 50 connections at once. The encryption is top notch and SSL connections can further help secure your data and privacy. Giganews delivered great performance, both using Mimo as well as third party newsreaders, reaching speeds of up to 40Mbps, which should be enough for even the most dedicated users.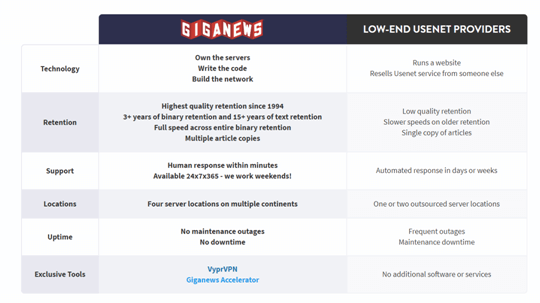 Support
If you need any support or help with Giganews, you can contact them using various forms that are present on their site or by sending an email support. As a premium Usenet provider, Giganews offers top notch customer support. Their tech team consists of system and network engineers that can help optimize speeds, reroute traffic etc. Their support team can help you with in the unlikely event that you have issues with the service, the customer support is swift and helpful. 24/7/365 you will receive a tech support response in 10 minutes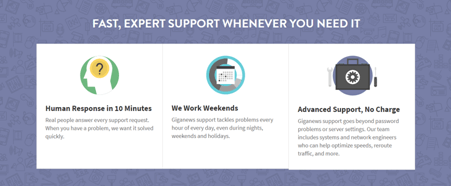 Conclusion
Giganews has a very well developed and reliable Usenet Service. Their lightning fast network and reliability will surely attract those who are looking for a top-quality Usenet provider. VyprVPN is also a particularly good selling point.
Giganews has been providing services for a long time. The company also runs its own servers, which is not as common. Most Usenet Providers are resellers.
We highly recommend the speed and reliability that Giganews offers. You not only receive a Usenet Account from Giganews but software and services that help improve your Usenet and Internet Experience. Give Giganews a try you won't be disappointed