Eweka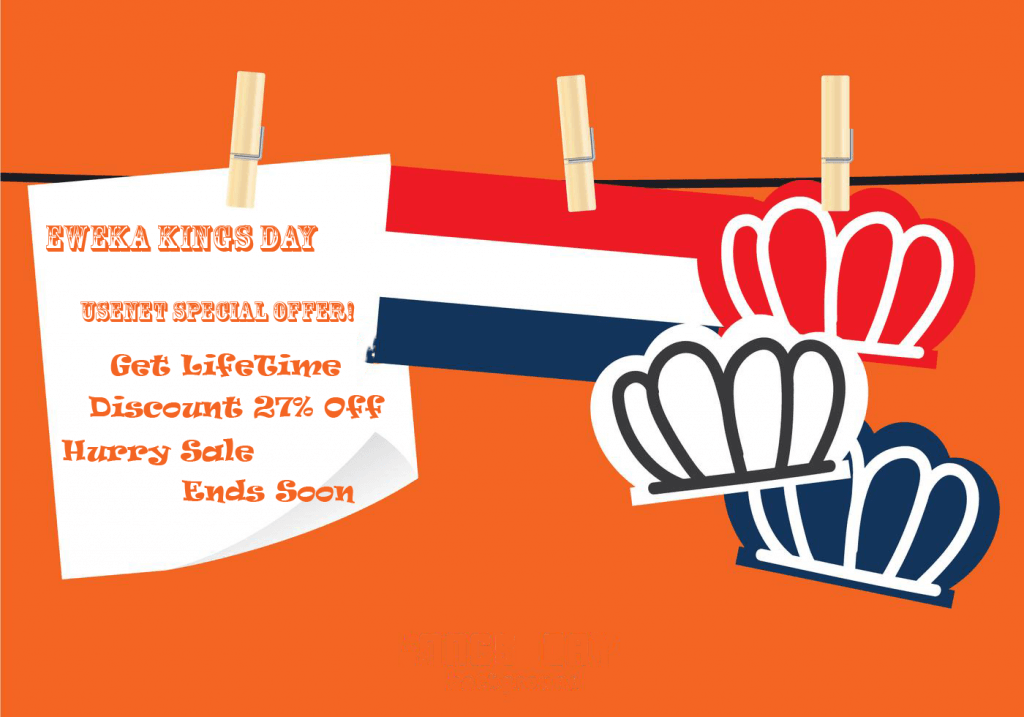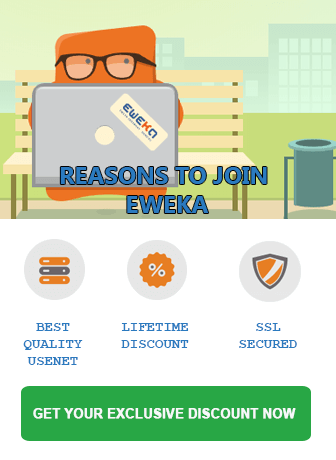 Eweka is our top choice for those seeking a Usenet service in Europe.  The Dutch Usenet provider offers a full 3,558 days of retention.  That's more than the next closest competitor located within the region. After signing up you can connect from anywhere. They were chosen our  Best European Dutch Usenet Providers of 2018
Rating
Pricing
Features
Payment Options
Retention
€7.00/mo

Multi Lingual Tech Support
Unlimited Downloads
Newsreader

iDeal
Paypal
Visa/Mastercard
Pricing
Unlike US-based Usenet services, Eweka utilizes a pre-paid system. This means that you purchase days of access to your account in advance.
Free trial: 7 days
50 Mbps – 7,60 € for 30 days
100 Mbps – 9,50 € for 30 days
Eweka Features
Binary Retention
Eweka offers customers with 3,558 days retention on all newsgroups that the service supports. They have a very reliable Usenet service with over 99.5% completion rate.
Data Transfer Limit and Speed
Their Internet connection operates with a speed of up to 600Gbits/s using their trans-Atlantic backbone. This feature provides users with the highest speed, lowest ping time and the shortest routes to connect to various Usenet newsgroups all over the world.
They do not have any data transfer limits set on any of their subscription plans. Users can enjoy unlimited data transfers with up to 100 Mbps connection speed (Standard – 50 Mbps, High Speed -100Mbps). They allow a maximum of 8 concurrent connections per account.
Account sharing is allowed on their services.
Usenet Accessibility
Eweka provides the highest quality newsgroups to its users. They are currently connected to over 109,000 discussion groups all over the world.
Free Upgrade to 100 Mbps
They offer a free upgrade from their standard speed of 50 Mbps to 100 Mbps, whenever customers pay for the standard subscription fee for 90 days or more in advance.
Free SSL Connection
Eweka protects customer's Usenet access with their free 256-bit SSL encryption.
Risk Free Trial Period
Eweka understands that new members need some time to test the service.  In response they offer a 7-day free trial.  You can sign up for a free trial account directly from their site.  The trial does not require payment information.  When the free trial period ends you can choose to top off your account or stop using the service.
Security & Privacy
Eweka takes user security and privacy very seriously.  They start by offering all Usenet members the ability to connect using SSL encryption.Eweka is based in the Netherlands where security and online privacy are more respected and part of the culture.
Customer Support
Eweka tech support team is there to help if you have any questions.  You can reach them by email.  Their support desk is available Monday-Friday during regular business hours.  Emails are typically returned within 1 to 3 days depending on where the weekend falls.
Conclusion
If you want a very high-speed Europeon Usenet service, then Eweka.nl is just what you need.